aesars Bondholders Open Third Front in Battle Over Firm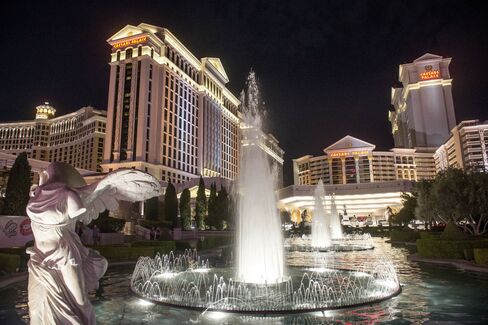 A group of Caesars Entertainment Corp.'s junior bondholders sued the company over what they called a "backroom deal" with another group of creditors, opening a third front in the widening court battle over the casino operator's future.
Investors in the notes, including funds linked to MeehanCombs LP, Trilogy Capital Management LLC and Chicago Fundamental Investment Partners LLC, accused the Las Vegas-based company of paying the other group, which holds the same bonds, "a vast premium" over the market rate in exchange for a deal that makes their own investment "effectively worthless."
"Caesars has engaged in a series of transactions to circumvent its obligations under the notes, indentures and guarantees and to effectively eviscerate plaintiffs' unconditional right to receive principal and interest," the investors claimed in a complaint filed today in Manhattan federal court.
Caesars' effort to reshuffle debt drew criticism from noteholders after the largest owner of casinos in the U.S. sought to remove guarantees on much of its $23 billion in debt, in preparation for a wider reorganization. Talks with investors challenging efforts to restructure $12.7 billion in debt spilled into two courts last month. The company claimed hedge funds want to force a default, while bondholders said Caesars is squandering assets.
Abandoning Guarantees
The investors who sued today own about $21 million of the company's 6.5 percent notes due in 2016 and its 5.75 percent debt due 2017. They attacked Caesars' alleged effort to amend the bond indentures and restructure the notes within six months. In the complaint, they called the plan part of a strategy to restructure Caesars' operating unit debt "by transferring out valuable assets and abandoning CEC's guarantees on the debt, and to leave the disenfranchised noteholders out in the cold."
Stephen Cohen, a spokesman for Caesars at Teneo Holdings LLC, said the lawsuit by junior bondholders has "no merit."
The operating company's $159 million of 6.5 percent unsecured notes due June 2016 fell less than a cent to trade at 34.4 cents on the dollar at 4:28 p.m. in New York, according to Trace, the bond-price reporting system of the Financial Industry Regulatory Authority..
The notes traded at 64 cents before Caesars announced Aug. 12 it reached a deal to pay down some of the notes, according to Trace data.
Largest Unit
In May, Caesars sold a 5 percent stake in Caesars Entertainment Operating Co., its largest unit, to undisclosed investors. The sale meant some bond investors will no longer hold a claim to the parent company's assets, leaving them with less bargaining power in talks over the debt.
Wilmington Savings Fund Society, a trustee for holders of some of Caesars 10 percent notes due in 2018, accused the casino operator of fraudulently transferring assets as part of the restructuring and wasting assets, according to a complaint filed Aug. 5 in Delaware Chancery court in Wilmington.
The operating company was insolvent at the time Caesars forced it to give up some of its most valuable assets, making the transfer an intentional fraud inflicted on creditors, according to the trustee's complaint.
The same day, Caesars sued more than 30 bondholders in New York state court in Manhattan, including funds overseen by Appaloosa Management LP, Oaktree Capital Group Holdings LP and Elliott Management Corp. Caesars claimed the companies sought to impede its restructuring with "disruptive appearances before gaming regulators" and "a baseless default notice."
Latest Lawsuit
According to the latest bondholder lawsuit, Caesars agreed to repurchase $155.4 million of notes as long as their holders assented to the removal of a guarantee by the parent company -- a move that would apply to notes held by investors not privy to the deal. The agreement also required participating debtholders to approve a future restructuring of the operating company's debt, according to court papers.
The company, and Caesars Entertainment Operating Co., which issued the debt, "rejected the fair and inclusive path where an issuer makes an offer available to all note holders in favor of cutting its separate deal with the select few," according to the complaint.
Unspecified Damages
The group, earlier represented by O'Brien LLP, sent Caesars a letter Aug. 15 demanding it provide documents that were used to negotiate the transaction. The investors are seeking unspecified damages and an order from the court declaring the changes to the bond indentures invalid.
"Caesars has violated federal law and certain provisions of the indenture and we intend to pursue our rights," James Millar, a partner at Drinker Biddle & Reath LLP, who represents the group, said in an interview.
The case is MeehanCombs Global Credit Opportunities Master Fund LP, 14-CV-07091, U.S. District Court, Southern District of New York (Manhattan).