Ukraine Warns of Escalation as Obama Set to Visit Area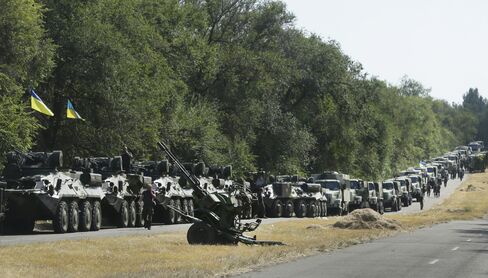 Ukraine warned of an escalating conflict in its easternmost regions as U.S. President Barack Obama headed to eastern Europe to reassure NATO members.
Ukraine's army will take on Russia's "full-scale invasion," Defense Minister Valeriy Geletey said on Facebook, a shift away from the government's earlier communication that focused on battling insurgents. Obama will visit Tallinn, Estonia, on his way to this week's North Atlantic Treaty Organization summit in the U.K. He'll meet the leaders of Estonia, Latvia and Lithuania, three former Soviet republics that are now part of the military alliance.
Ukraine and its allies in the U.S. and Europe accuse Russia of dispatching troops and backing militias to open a new front in the conflict that the United Nations estimates has claimed 2,600 lives. Russia has repeatedly denied involvement in the unrest. Ukraine "must urgently build up defenses against Russia," which is seeking "to advance to other areas in Ukraine," according to Geletey.
"We can truly imagine some very dark scenarios now," Organization for Security and Cooperation in Europe Chairman Didier Burkhalter said yesterday on Swiss state television. "We are in a very delicate phase." As long as the war continues, "the risks of escalation are very, very numerous."
Ruble Gains
The ruble gained after sliding to a record against the dollar for a second day yesterday as the intensified conflict raised the likelihood that Russia will face wider European Union sanctions. It traded 0.1 percent stronger at 37.33 as of 10:43 a.m. in Moscow. The Micex Index of equities rose 0.2 percent.
Russia's Foreign Ministry called Geletey's remarks shocking and questioned his competence in a website statement.
Talks yesterday between delegates from Russia, Ukraine, the OSCE and the separatists will continue Sept. 5. Consultations then will include discussions of a prisoner swap and possible talks on a future cease-fire, Andrei Purgin, deputy premier of the Donetsk People's Republic, said in a statement after the meetings in Minsk, Belarus.
"We are trying to find common ground, to cut back on war and victims as much as possible," Purgin said.
Ukraine is making a mistake in departing from an earlier format of negotiations, Polish Foreign Minister Radoslaw Sikorski said on TVN24 yesterday, referring to talks between representatives from Russia, Ukraine, the U.S. and the EU in Geneva in April. Sikorski said that Russia is shifting to "conventional war."
'Greater Danger'
German Chancellor Angela Merkel said Europeans won't accept Russia's military incursion into Ukraine.
"Being able to change borders in Europe without consequences, and attacking other countries with troops, is in my view a far greater danger than having to accept certain disadvantages for the economy," Merkel said yesterday at a news conference in Berlin.
Regular Russian troops are replacing insurgent forces, with about 1,600 soldiers advancing into the region, according to the government in Kiev. Russian troops and rebels number 10,000 to 15,000, military spokesman Andriy Lysenko told TV channel ICTV.
The Ukrainian army had moved back from fighting for control of the Luhansk airport and is holding the line after retreat near Donetsk, Lysenko said. Defense Ministry spokesman Leonid Matyukhin said the Ukrainian forces had been fighting against a Russian tank battalion.
EU Sanctions
While EU leaders disagreed about possible military aid to Ukraine in a weekend meeting in Brussels, they gave the European Commission a week to deliver proposals for sanctions that may target Russia's energy and finance industries.
Ukrainian President Petro Poroshenko has called for military and technical assistance for Ukraine from the EU.
The EU and the U.S. have already slapped visa bans and asset freezes on Russian individuals and companies, and since July have imposed steadily tougher sanctions targeting the country's energy, finance and defense industries.
"Sanctions aren't a magic wand but there isn't much else to do," Estonian Foreign Minister Urmas Paet said in an interview with public television. "When politics or diplomacy haven't provided results, we have economic sanctions. The question is how much the worsening of economy will affect Russia's aggressive policy."