Obama to Deliver Warning to Putin on NATO's Frontier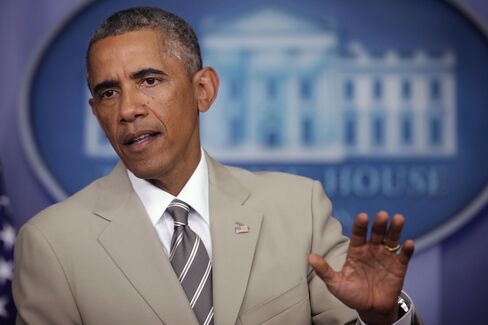 U.S. President Barack Obama touches down in Estonia tonight to deliver reassurance to Baltic nations and a direct warning to Russian President Vladimir Putin that NATO stands by its military commitment to alliance security.
Obama added a stop in Tallinn, Estonia, to a long-scheduled trip to this week's North Atlantic Treaty Organization summit in Cardiff, Wales, as Putin ramped up support for separatists in Ukraine even after sanctions by the U.S. and European Union.
By meeting there with the presidents of Estonia, Latvia and Lithuania -- all NATO members -- Obama is telling Russia "don't even think about messing around in Estonia or in any of the Baltic areas in the same way that you have been messing around in Ukraine," Charles Kupchan, White House senior director for European affairs, said.
The NATO summit is taking place as the confrontation with Russia over Ukraine converges with the escalating threat from the Islamic State extremist group, which has captured swaths of Iraq and Syria and recruited fighters from Europe as well as the U.S. Both crises are taking place right on the alliance's frontiers, and Obama plans to prod European allies to meet both threats by spending more on defense.
"NATO, as it has historically, will be looking for strong U.S. leadership," said Heather Conley, the director of the Europe Program at the Center for Strategic and International Studies. "But we cannot do it alone, and we do now need the rest of the alliance to step forward."
For European nations, the Russian incursion into Ukraine has made clear the scope of the potential threat at their doorstep.
Sanctions Threat
The EU and the U.S. have already slapped visa bans and asset freezes on Russian individuals and companies, and since July have imposed steadily tougher sanctions targeting the country's energy, finance and defense industries.
EU leaders last week directed the European Commission to deliver proposals for tougher sanctions on Russia if the conflict in Ukraine worsens. The 28-member bloc left open the precise trigger for further sanctions.
"The situation has very much escalated over the last two days and if this continues we will decide on further sanctions within the week," German Chancellor Angela Merkel told reporters Aug. 31 in Brussels.
In addition to sanctions as a means to blunt the Russian threat, Obama will urge NATO members to spend a greater share of their budgets on defense.
Defense Spending
According to NATO figures, the U.S. spent $735 billion on defense in 2013, or about 4.4 percent of gross domestic product. The other 27 NATO nations spent $288 billion combined, averaging only 1.3 percent of GDP. The NATO target for defense spending is 2 percent, yet in 2013 only the U.S., Greece, Estonia and the U.K. met or exceeded that level.
The summit will be important "to refocus attention on the critical function that NATO plays to make sure that every country is contributing in order to deliver on the promise" of providing mutual defense, Obama said at an Aug. 28 news conference.
Yet many European countries are still reeling from the financial crisis and have imposed austerity programs that sharply curbed government spending. Persuading Europe's taxpayers to increase defense spending now probably is an uphill climb.
The Ukraine crisis has further exacerbated the economic situation in Europe, undermining spending and company investment. U.K. factory growth slowed more than forecast last month and Italian manufacturing shrank. Russia's economy also has been hit, with the ruble weakening and the Micex Index of equities slipping 0.6 percent yesterday.
Alarm Call
"The Ukraine crisis has been a wakeup call," said Conley, a former State Department official in President George W. Bush's administration. "Whether the Europeans will hit the snooze button again, I don't know, but it has certainly shaken them."
While Ukraine isn't a member of NATO, its president, Petro Poroshenko, will be at the summit to represent his nation on a NATO-Ukraine Commission to examine how the alliance can enhance security.
NATO has increased its military presence on the border with Russia, adding warplanes for air patrols and surveillance in April and deploying about 600 U.S. paratroopers on training rotations in Estonia, Latvia, Lithuania and Poland.
"The issue of NATO membership for Ukraine is not under discussion in the alliance," Kupchan said in a conference call to preview Obama's trip. "The general posture of the United States and its allies is that the door is open and that this conversation will continue."
Military Solution
Obama has made clear that the U.S. and its allies don't want an armed confrontation over Ukraine.
"It is very important to recognize that a military solution to this problem is not going to be forthcoming," Obama said at his news conference.
Putin said in April that he decided to absorb Crimea from Ukraine in part because of the eastward expansion of NATO, accusing the U.S.-led military alliance of violating a commitment not to expand toward Russia after the 1991 Soviet collapse. During his annual call-in show, he compared the spread of NATO to a "cancerous tumor."
Expanding NATO
From 1999 to 2009, NATO expanded to include 12 eastern European countries -- including the remaining members of the Warsaw Pact and the three Baltic republics. Georgia, which fought a five-day war with Russia in 2008, is pushing to speed up its membership in the alliance.
Even as Ukraine remains at the forefront of this week's agenda, the increased strength of Sunni militants operating in Syria and Iraq has also risen on week's agenda, as European nations face what U.S. law enforcement officials call the very real threat of their citizens traveling to Syria to train and fight, then returning for attacks.
The U.S. will push NATO to get more involved with combating Islamic State threats in the Middle East, Kupchan said. As Wales last week prepared to host its first NATO summit, the U.K. raised its terror threat level to "severe," citing the risk from Western passport-holders who are aligned with Islamic extremists.
Obama continues to weigh airstrikes against Islamic State extremists in Syria -- an expansion of U.S. military involvement that has already included more than 100 air strikes against the militant group in Iraq. The administration is now pressing allies to form a coalition for any next steps against the Islamic State.
The German government, which previously has shied away from sending weapons into war zones, is sending 16,000 assault rifles, anti-tank weapons and armored vehicles to Iraqi Kurds fighting Islamic State militants.
"If we don't succeed in pushing Islamic State back, the Middle East's fragile order would be shaken to the core and set the entire region ablaze," German Foreign Minister Frank-Walter Steinmeier said at Aug. 31 news conference in Berlin. "It's not an easy decision for us, but it's the right decision in a situation that's exceptional in every way."
Before it's here, it's on the Bloomberg Terminal.
LEARN MORE