Next Summer's Beer and Coolers, Brought to You by Crowdfunding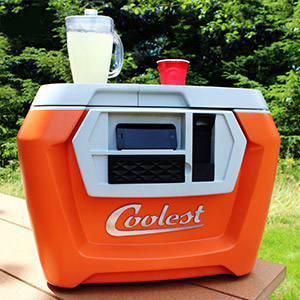 The unofficial last week of summer was also a record-breaking week for crowdfunding campaigns: Stone Brewing Company, an Escondido (Calif.)-based microbrewer, has been taking early orders for some new brews on Indiegogo since July. By the time it closed on Aug. 29, the campaign hit $2.5 million, a record for the crowdfunding site.
Now customers will have to wait. The two breweries at which Stone Brewing plans to make the new beers haven't been built yet, and the company doesn't think it will start brewing until the end of 2015.
The new beers might be perfect companions for the summer's other big crowdfunding bonanza, a tricked-out picnic cooler that comes with extras you never knew you needed: a bottle opener, waterproof speakers, and a built-in blender (perfect for beer milkshakes).
The Coolest, as the project is called, has also been a record-setter. Last week it crossed the $11 million mark on Kickstarter, topping the $10.2 million raised for the Pebble smartwatch in 2012. Depending on when backers contributed to the Coolest campaign, they can expect to receive coolers by February 2015, though—as Pebble backers learned—crowdfunded products can be subject to delay.
Why were these projects so successful? Some researchers say authoritative language helps drive successful campaigns. Others maintain that viral potential is more important than the final product, which helps explain how a Web developer named Zack Brown raised more than $50,000 to make potato salad. Creating a great video no doubt helps, as does begging friends for social media shares and offering a variety of rewards according to how much backers contribute.
Stone Brewing's crowdfunding success has been, at least partially, rooted in tapping into an existing fan base. The company is the 10th-largest craft brewer in the U.S., and about one third of its pre-sales have come from selling $3,000 bulk orders aimed at wholesalers.
The Coolest's campaign may offer a better blueprint for entrepreneurs. The project's creator, a Portland, Ore., inventor named Ryan Grepper, tried to fund a similar project last winter in a campaign that failed to meet its goals. The first effort created a base of people eager to support the project before Grepper launched the second campaign in July. He raised millions of dollars in a few days, and the ensuing media attention helped carry the campaign the rest of the way.
There are simpler explanations for why the two projects thrived. More money is flowing into crowdfunding projects than ever. And summer is a good time to sell beer and coolers—even those yet to be made.
Before it's here, it's on the Bloomberg Terminal.
LEARN MORE