Nasdaq Declines as Apple Tumbles; Emerging Markets Rally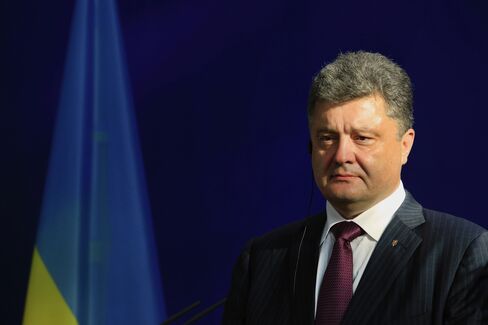 The Nasdaq Composite Index fell as Apple Inc. tumbled while investors assessed the prospects for a resolution to the conflict in Ukraine. Emerging-market stocks rallied and the ruble jumped with oil prices.
The Nasdaq Composite lost 0.6 percent at 4 p.m. in New York, as Apple declined 4.2 percent. The Standard & Poor's 500 Index fell 0.1 percent to 2,000.72, erasing gains after reaching an all-time high. The MSCI Emerging Market Index advanced 1.3 percent to its highest level in three years, and the Stoxx Europe 600 Index rose 0.7 percent to the highest since July 4. Russia's ruble strengthened 1.6 percent and Brent oil rose 2.4 percent.
Russian President Vladimir Putin outlined a peace plan for Ukraine after agreeing with his Ukrainian counterpart Petro Poroshenko on steps toward a cease-fire in the conflict. A measure of services activity in the euro zone dropped more than forecast, adding to speculation that European Central Bank President Mario Draghi will announce additional stimulus. U.S. factory orders expanded in July and a private gauge showed non-manufacturing activity in China jumped in August.
"The pop this morning was a very small sense that there is some positive movement out of Russia and Ukraine," Kevin Caron, who helps oversee $170 billion at Stifel Nicolaus & Co. in Florham Park, New Jersey, said in a phone interview. "But on second look most people are realizing that not too much has changed there."
Strengthening Ruble
Global equities rallied early in the day amid signs of easing tensions in Ukraine. Putin called for an end to the rebels' offensive in the country's easternmost regions and urged the withdrawal of the Ukrainian military from residential areas as part of a seven-point proposal he presented today in Ulaanbaatar, Mongolia.
Ukrainian Prime Minister Arseniy Yatsenyuk dismissed Putin's peace plan as "window dressing for the international community ahead of the NATO summit" and a ploy to duck sanctions. Putin's "true plan is to ruin Ukraine and restore the Soviet Union," Yatsenyuk said in an e-mailed statement.
"The cease-fire in Ukraine is very important," said Heinz-Gerd Sonnenschein, a strategist at Deutsche Postbank AG in Bonn. "People are beginning to wonder whether there will finally be a conclusion to the crisis, and if investors can focus on other factors, like economic indicators and central-bank policy."
The ruble strengthened the most since March against the dollar, after finishing yesterday at its lowest level since at least 2003. The Micex Index jumped 3.5 percent, its biggest gain in almost four months. The Ukrainian Equities Index climbed 1 percent.
Bond Yields
Treasuries erased losses as investors continued to seek a haven in U.S. government securities. The rate on 10-year Treasuries fell two basis points to 2.40 percent, after touching 2.47 percent, its highest level since Aug. 13.
The S&P 500 slipped from a record yesterday, after gaining 3.8 percent in August to breach the 2,000 level for the first time on bets that the Federal Reserve will keep interest rates low even as the economy shows signs of picking up.
The Fed said today the U.S. economy continued to expand during the summer, with none of the country's regions experiencing a shift in the pace of growth. Trends in employment, wages and prices were little changed during the July-August period, according to the Beige Book survey released today based on reports from the 12 regional banks in the Fed system. Policy makers will meet Sept. 16-17.
Economic Data
Data today showed factory goods orders rose 10.5 percent in July, the largest gain since records began in 1992.
The U.S. economy expanded more than previously forecast in the second quarter, propelled by the biggest gain in business investment in more than two years, the Commerce Department reported last month. A Labor Department report on Sept. 5 will show payrolls rose by more than 200,000 in August for a seventh straight month, a Bloomberg survey of economists showed.
The ECB and the Bank of Japan update monetary policy tomorrow amid speculation over the outlook for stimulus after disappointing economic reports.
Technology shares in the S&P 500 slumped 0.7 percent as a group. Apple sank 4.2 percent, the most since January, after rival Samsung Electronics Co. introduced new smartphones and the company faced criticism following the theft of celebrity photos.
Apple is set to unveil new iPhones, a wearable device and a mobile-payments system at an event on Sept. 9, people with knowledge of the matter have said. Pacific Crest Securities LLC said it would likely cut Apple's outperform rating unless the event shows "massive incremental profit opportunities."
'Built In'
"Apple stock's had a pretty strong move in the last several months," Michael James, a Los Angeles-based managing director of equity trading at Wedbush Securities Inc., said in an interview. "A lot of positives from the iPhone launch are built into the stock price at these levels. People are merely taking profits."
Apple had rallied in 15 of the previous 17 sessions, adding 9.3 percent since Aug. 7 to reach a record close of $103.30 yesterday.
The Bloomberg Dollar Spot Index slipped 0.2 percent, after three days of gains, as the U.S. currency weakened against most of its major counterparts. It fell the most versus Australia's dollar.
Brent oil rose 2.4 percent to $102.77 a barrel, rebounding from its lowest closing price since May 2013, on speculation cease-fire talks between Russia and Ukraine will ease sanctions against the biggest energy exporter. West Texas Intermediate soared 2.9 percent to $95.54 a barrel.
Gold climbed 0.4 percent to $1,270.30 an ounce. Palladium declined to the lowest in almost two weeks after climbing to a 13-year high yesterday.
The Hang Seng China Enterprises Index of mainland companies listed in Hong Kong jumped 3.2 percent to its highest level this year after a report showed services activity accelerated in the world's second-largest economy. The Shanghai Composite Index rose 1 percent.
Before it's here, it's on the Bloomberg Terminal.
LEARN MORE