Christie's Mexico Trip May Showcase Split on Immigration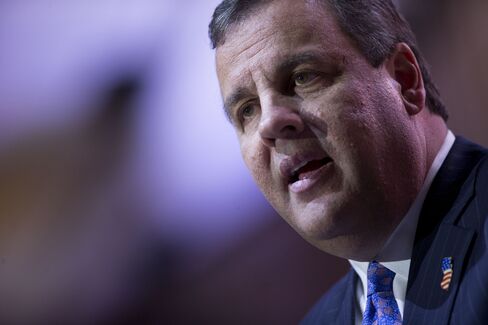 Sept. 2 (Bloomberg) -- New Jersey Governor Chris Christie arrives in Mexico City tomorrow on a three-day trade mission with a chance to distinguish himself from fellow Republicans on immigration.
The visit, including meetings with Mexico President Enrique Pena Nieto and business leaders, comes as his party wrestles with how to win the Hispanic vote. In 2012, Mitt Romney garnered just 27 percent of the demographic group's support in his failed presidential bid.
Christie, who is considering a White House run, has an opening to take a stance more sympathetic to Mexican-Americans, said Ford O'Connell, a Republican strategist in Washington. Christie in December signed a bill allowing children of undocumented immigrants to pay in-state tuition at New Jersey's colleges and universities. He told reporters in July that he has "empathy" for unaccompanied children from Central America who are crossing into the U.S.
"What he'd really like to do by the time 2016 comes rolling around is demonstrate that he has pull with Hispanic voters," said O'Connell, who has worked in the past with Christie political adviser Mike DuHaime. "Immigration is not very popular in a Republican presidential primary, but it's an issue that you're going to have to work through if you want to become the nominee and actually win in a general election."
Presidential Visit
Christie, 51, is scheduled to meet tomorrow with Pena Nieto, who's undertaken economic changes to open the nation's state-controlled energy industry to foreign investment and spur more competition in a telecommunications industry dominated by billionaire Carlos Slim's America Movil SAB. Christie also plans to meet with Mexican cabinet ministers and to visit the state of Puebla, which has historic ties to Mexican-Americans in New Jersey, Amy Cradic, a deputy chief of staff, said on an Aug. 29 conference call with reporters.
The governor will be traveling with a 15-member delegation that includes Greg Brown, chief executive officer of Motorola Solutions Inc. and chairman of the Rutgers University Board of Governors, according to a list released today by Christie's office. Ralph Izzo, chairman and chief executive of Public Service Enterprise Group, and Michelle Brown, a long-time Christie aide who leads the state's Economic Development Authority, also are going.
Travel Companions
The roster also includes Martin Perez, president of the Latino Leadership Alliance of New Jersey, which endorsed Christie's 2013 re-election; Robert Grady, chairman of the state's pension-oversight panel and a top Christie economic adviser; and Richard Bagger, formerly Christie's chief of staff and currently a senior vice president at Celgene Corp.
Asked about immigration at an Aug. 28 briefing with reporters, Christie said that while the issue may come up, he's focused on promoting economic cooperation between New Jersey and Mexico.
"That's the main thrust of the trip," Christie said. "I don't know what other topics will come up. I'm going to be engaging in conversations with the president of Mexico and high-level cabinet ministers of his. So whatever issues they want to talk about I'll be happy to discuss."
Immigration Overhaul
The trip marks Christie's second foreign visit as governor; he went to Israel in 2012. Since winning re-election in November by 22 percentage points, the governor has seen his popularity sag with state and federal inquiries into intentional lane closings a year ago at the George Washington Bridge. His approval rating dropped to 47 percent in August, the lowest in three years, a Quinnipiac University poll found.
The immigration debate is stymied in Congress. President Barack Obama, a Democrat who won more than 70 percent of the Hispanic vote in his 2012 re-election, has advocated an overhaul of the system to create a path to citizenship.
While Senate Republicans including Florida's Marco Rubio, a potential rival to Christie in 2016, helped pass a comprehensive immigration plan in that chamber last year, their counterparts in the House of Representatives have refused to consider it.
Another possible rival, Texas Governor Rick Perry, has gained attention by ordering 1,000 Texas National Guard troops to the U.S.-Mexico border to stop a wave of unaccompanied children entering the country across a frontier that he has described as "largely undefended."
Crisscrossed U.S.
The Republican governors of Alabama, Kansas, North Carolina, Pennsylvania, Utah and Wisconsin, sent a letter to the White House on July 22 saying a failure to return the children "will send a message that will encourage a much larger movement towards our southern border."
Christie and Perry have criticized Obama for not visiting the border to see the situation firsthand. As head of the Republican Governors Association, Christie has crisscrossed early nominating states such as New Hampshire, Iowa and South Carolina as he seeks to expand his base of support.
"Mainstream, sensible Republicans realize they are not going to win the White House without Hispanics," said Matt Hale, professor of political science at Seton Hall University in South Orange, New Jersey. "That's just a demographic fact."
Outreach to minority voters was a key recommendation in the Republican National Committee's autopsy of its 2012 loss. A report called on the party to "embrace and champion comprehensive" immigration changes.
Shrinking Appeal
For Hispanic- and Asian-Americans, who will account for one in four U.S. voters by 2020, creating a route to citizenship will be "a key determinant" in how they vote in the 2016 presidential election, according to a Bloomberg Government study last year.
Christie has already shown an ability to improve his standing with Hispanics. He received 51 percent of the Hispanic vote in his re-election victory in November, up 19 percentage points from his 2009 win, according to New York Times exit polls.
While Christie hasn't articulated his own immigration policy, he's unusual among Republican governors for staking out his position allowing the children of undocumented immigrants to pay the discounted tuition rate, said Brigid Harrison, a professor of law and government at Montclair State University in Montclair, New Jersey. Perry has also embraced the program for Texas.
The Mexico trip provides Christie with a chance to make further inroads with Hispanic voters, said Lionel Sosa, a Republican strategist who coordinated Hispanic outreach for Ronald Reagan, George H. W. Bush and George W. Bush. Republicans need to get serious about courting Asian, female, Hispanic and younger voters if they're to win in 2016, he said.
"I think it's the kind of gesture every Republican should be making," Sosa said. "We all know that immigration is a problem, that our laws are outdated and need to be revised. Many people in our party are just making excuses and pandering to the right."
To contact the reporters on this story: Eric Martin in Mexico City at emartin21@bloomberg.net; Terrence Dopp in Trenton at tdopp@bloomberg.net
To contact the editors responsible for this story: Alan Goldstein at agoldstein5@bloomberg.net Stacie Sherman, Mark Tannenbaum