Baidu Surges on New Product Anticipation as Ctrip Gains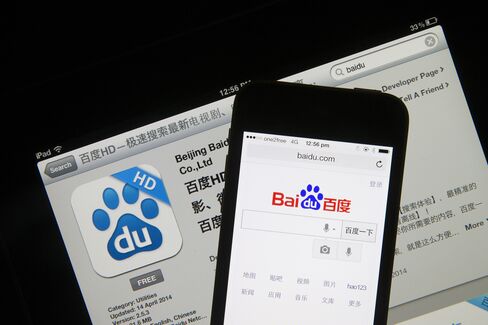 Baidu Inc. rallied the most in a month in U.S. trading on prospects China's biggest online search engine may unveil new products at the company's annual conference on technology innovation.
American depositary receipts of Beijing-based Baidu rose 4.8 percent yesterday in New York, nearing an all-time high reached in July. Travel booking website Ctrip.com International Ltd. climbed to a record while China Southern Airlines Co. surged the most since November. The Bloomberg China-US Equity Index added 0.6 percent to 116.94.
Baidu will release a smart device that can be used in e-commerce at its annual conference in Beijing today, Sina News reported on its website, citing an unidentified person with the company. Baidu is also expanding mapping services to better compete with online retail platform Alibaba Group Holding Ltd. Chinese stocks in New York followed gains in local markets amid speculation the government will step up stimulus after manufacturing grew at a slower pace in August.
The Baidu World event "is generally something that's seen as potentially a catalyst in terms of new products, or new announcements for the company," Cheng Cheng, an analyst at Pacific Crest Securities LLC., said in a phone interview from Portland, Oregon. "Probably there's some optimism around that."
Kaiser Kuo, a spokesman for Baidu, said via e-mail that the company will be giving limited demonstrations of BaiduEye, a smart eyewear product, at the event today.
Indoor Mapping
Baidu's ADRs climbed to $224.80, rallying the most since July 25 when it closed at a record $226.50.
The company, which formed an online shopping venture last week with Dalian Wanda Group and Tencent Holdings Ltd., is investing about $10 million in U.S. startup IndoorAtlas Ltd. to expand mapping services inside buildings and shopping centers, a person familiar with the matter said.
"Indoor mapping, which provides more clarity on where things are inside a building, is the direction where the market is heading," said Cheng at Pacific Securities. "It's probably longer term in nature."
Besides e-commerce, the BaiduEye smart device will be suitable for education, mass transportation and helping the visually impaired, the Sina report said.
Ctrip.com, the largest online travel agency in China, soared 5.8 percent to $67.91, the highest level since its 2003 U.S. debut.
ADRs of China Southern, the country's largest airline by passengers carried, jumped 6.8 percent to $17.29, the steepest advance since November. China Eastern Airlines Corp. gained 5.8 percent to $17.17, rallying for the first time in a week.
Support Growth
Chinese government's Purchasing Managers' Index was at 51.1 for August, missing the median 51.2 estimate in a Bloomberg survey before the data was released Sept. 1. The final reading of a separate manufacturing gauge from HSBC Holdings Plc and Markit Economics was 50.2. Both readings fell from 51.7 in July and remain above 50, indicating expansion.
The government should use targeted relending and reserve-ratio cuts in the second half to support growth, according to a front-page commentary yesterday in China Securities Journal, which is controlled by the official Xinhua News Agency.
The iShares China Large-Cap ETF, the largest Chinese exchange-traded fund in the U.S., rose 0.6 percent to $40.71, its first gain in four days. The Standard & Poor's 500 Index slipped 0.1 percent as energy producers sank with the price of crude to offset data showing U.S. manufacturing expanded at the fastest pace in three years.
The Hang Seng China Enterprises Index added 0.1 percent to 10,966.16, after slumping 1.5 percent in August. The Shanghai Composite Index climbed 1.4 percent to 2,266.05, the highest level since June 2013.
Before it's here, it's on the Bloomberg Terminal.
LEARN MORE