Japan's Car Slump Signals Return of Factory Hollowing Out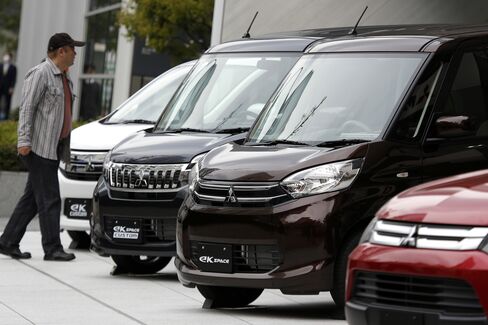 Japan's lowest auto sales in three years are reviving concerns that manufacturing will hollow out in Asia's second-largest economy.
Such rhetoric was tossed around regularly as recently as 2012 by car executives as the stronger yen forced production to shift out of Japan. While favorable currency rates since then paused such talk -- Toyota Motor Corp. is headed for a second straight year of record profit -- the country's first sales-tax increase in 17 years has led to a slump in consumption and carmakers have resumed scaling back output in the country.
Sales in August tumbled 9.1 percent, the steepest drop in 14 months, serving as the latest sign of the trouble ahead for Asia's second-largest auto market. Japan's main association for car dealers warned yesterday that further declines loom.
"Demand in Japan continues to decline, and as long as that's the case, many of the companies will continue to reduce their capacity in Japan," said Koji Endo, a Tokyo-based auto analyst at Advanced Research Japan.
Automakers delivered 333,471 vehicles last month, the fewest since August 2011, according to industry figures released yesterday. Sales of minicars, which had helped cushion demand earlier this year, paced declines by plunging 15 percent.
Deteriorating Outlook
Most automakers reported declines for the month, with Mitsubishi Motors Corp. seeing the steepest decline at 37 percent. Toyota, the world's largest automaker, saw deliveries fall 12 percent, while Nissan Motor Co.'s sales dropped 15 percent. Honda Motor Co. was among the few to see an increase as sales climbed 11 percent thanks to the popularity of its Fit vehicles.
"Looking at current dealer orders, it's difficult to see sales rising even after September," Yoshitaka Hayashi, a director at the Japan Automobile Dealers Association, said yesterday.
Shares of most Japanese automakers rose today as a weaker yen helped push up the Nikkei 225 Stock Average by 1.2 percent in Tokyo trading.
Few countries are in Japan's league in terms of the deteriorating outlook for car manufacturing. Automakers will add 22 million units of global auto production by 2021, according to IHS Automotive estimates. By comparison, Japanese annual output is poised to shrink by more than 1.6 million vehicles in the coming decade, the researcher estimates.
'Declining Market'
"Structurally, Japan is a slowly declining market," said Tatsuo Yoshida, a Tokyo-based automotive analyst for Barclays Plc. "The outlook for exports is not promising either. Japanese car companies, particularly those big Japanese companies like Toyota, Honda, Nissan, they are already committed to making cars where the demand is."
Toyota has pledged to keep annual production of 3 million vehicles in Japan, while Nissan has committed 1 million.
Capital expenditure growth at Japanese companies will decline to 7.9 percent this fiscal year and to 1.3 percent the following year, with automobile and telecommunications companies driving the slowdown, Moody's Corp. estimates in a report released today. That compares with 12.3 percent spending growth in fiscal 2012, according to the report.
Vehicle production in Japan shrank by almost one-quarter in five years, tumbling to 7.9 million units in 2009, when the worldwide auto industry slumped amid the global recession. Output stayed weak in the following years as executives including Nissan Chief Executive Officer Carlos Ghosn warned that the industry would "hollow out" if the yen remained strong.
Weaker Currency
Those concerns dissipated as economic policies pushed by Prime Minister Shinzo Abe helped weaken the currency. Should the hollowing out of the industry resume, it would be a blow to his efforts to revive the economy, which last quarter contracted the most since the 2011 earthquake and tsunami.
Japan raised the consumption tax to 8 percent from 5 percent in April to counter the world's biggest national debt burden. The effect on monthly sales was softened temporarily by backorders for minicar models such as Daihatsu Motor Co.'s Tanto and Suzuki Motor Corp.'s Spacia.
With that backlog of orders cleared, minicars are poised to continue to post declines until early next year, said Endo, the analyst at Advanced Research Japan. Demand may recover ahead of a 50 percent increase in the tax consumers pay when registering a minicar, to 10,800 yen per year, he said.
Auto sales fell for 21 straight months in the country the last time the consumption tax was raised, in 1997. This year's tax increase may have a smaller effect, Fumihiko Ike, chairman of the Japan Automobile Manufacturers Association, said in May.
Sluggish domestic demand is expected to weigh on earnings at Japanese automakers including Toyota, which reported record profit last fiscal year as a weaker yen boosted the value of overseas earnings.
Toyota's net income will probably increase 8.8 percent to a record 1.98 trillion yen ($19 billion) this fiscal year, which ends in March, according to the average of analyst estimates compiled by Bloomberg.
Before it's here, it's on the Bloomberg Terminal.
LEARN MORE