Ray McDonald of NFL 49ers Arrested on Domestic Violence Charges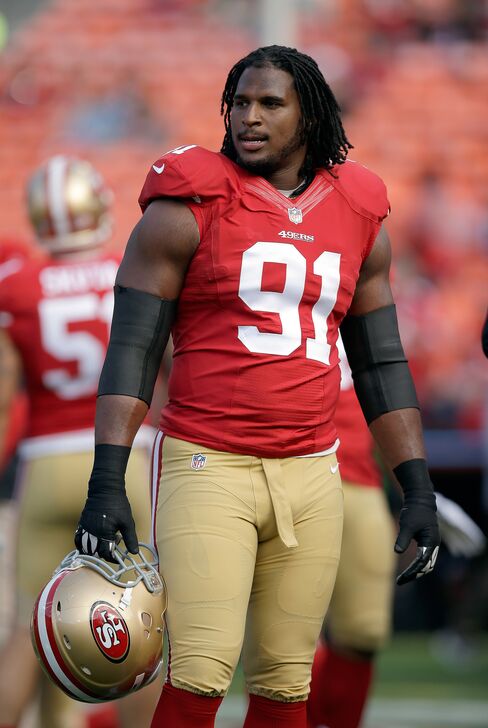 Defensive lineman Ray McDonald of the San Francisco 49ers was arrested on felony domestic violence charges in San Jose, California, three days after the National Football League enacted tougher penalties for players found guilty of domestic violence or sexual assault.
McDonald, 29, was taken into custody early yesterday morning after police responded to a call at 2:48 a.m., San Jose Police Department Sergeant Heather Randol said in an e-mail. McDonald posted bail and was released from jail, Randol said, and the case will be submitted to the Santa Clara County District Attorney's office for review.
"The 49ers organization is aware of the recent reports regarding Ray McDonald and we take such matters seriously," General Manager Trent Baalke said yesterday in a statement. "As we continue to gather the facts, we will reserve further comment."
The NFL said on Aug. 28 that it would issue six-game suspensions for first offenses of domestic violence and sexual assault, with commissioner Roger Goodell saying in a letter to owners that the league allowed its standards to "fall below where they should be." Players would be banished from the league for a subsequent violation.
The NFL received criticism last month after Ray Rice of the Baltimore Ravens received a two-game suspension following an altercation with his then-fiancee. Rice knocked her unconscious, according to Sports Illustrated, and video footage showed the All-Pro running back dragging her out of an elevator at a New Jersey casino. By comparison, Cleveland Browns wide receiver Josh Gordon last week received a season-long ban for what ESPN said was a positive marijuana test upheld by an arbitrator.
Smith's Suspension
NFL officials didn't immediately return messages seeking comment on McDonald's arrest.
The 6-foot-4, 276-pound McDonald has totaled 16 1/2 quarterback sacks over seven NFL seasons, all with the 49ers. He had 3 1/2 sacks while starting 14 games last season.
McDonald's arrest comes two days after the NFL banned another 49ers defensive end, Aldon Smith, for the first nine games of the season for violating the league's substance abuse and personal conduct policies. Smith pleaded no contest to drunken driving and weapons charges.