Rams Cut NFL's First Openly Gay Player Sam in Roster Trim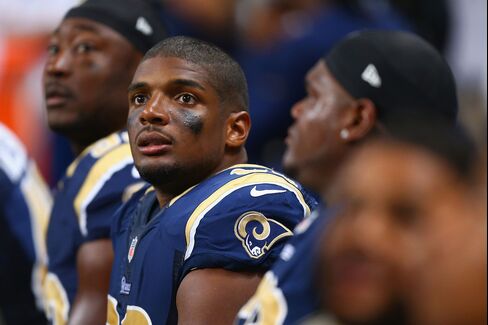 Michael Sam, the National Football League's first openly gay player, received a positive evaluation from coach Jeff Fisher despite being cut yesterday by the St. Louis Rams.
The rookie defensive end was one of the Rams' final cuts as the team trimmed down to a 53-man roster for the regular season that starts next weekend, the team said on its website. He is now free to explore offers from other teams.
Fisher said the roster move was a "football decision," citing the team's depth on the defensive line. Fisher said he believes Sam has the energy and the talent to play in the NFL.
"I was pulling for Mike, I really was, and I don't say that very often," he said in a news conference.
Fisher said he called Sam to inform him of the decision. The 24-year-old responded that he understood the decision and thanked him for the opportunity, according to Fisher.
"The most worthwhile things in life rarely come easy," Sam said yesterday on his Twitter account. "The journey continues."
Sam said earlier this week that he'd done all he could to make the team and that he was "very confident" he would be on an NFL roster this season. Gil Brandt, former vice president of player personnel for the Dallas Cowboys, agreed on his Twitter account, calling yesterday's cut a "minor setback" for Sam.
Sam had three of the Rams' eight sacks during the preseason, and had the second most snaps of any defensive lineman on the team. He was tied for fourth on the team in tackles (11), including a team-high six in St. Louis's final exhibition this week.
Seventh-Round Pick
Sam publicly revealed his sexuality three months before he was picked by the Rams in the seventh round of the NFL draft. National Basketball Association center Jason Collins, who came out in April 2013, this year became the first openly gay athlete to play in one of the four major U.S. sports leagues.
``Sometimes in life you have to take the long road to get to your destination,'' Collins said today on Twitter.
Sam was in the news earlier this week when ESPN aired a segment regarding him not showering with his teammates. The report received a lot of criticism, including from Rams defensive end Chris Long.
As he has for the past month, Fisher said there was "no distraction" posed by Sam's presence.
"If someone perceived or thought there may have been a distraction, they weren't in the building," Fisher said. "He's not about anything more than himself. He just kept his head down and he worked."
(An earlier version of this story incorrectly stated the timing of Jason Collins's announcement in ninth paragraph.)
Before it's here, it's on the Bloomberg Terminal.
LEARN MORE