Russian ETF Hedging Cost Surge Shows Bulls Have Doubts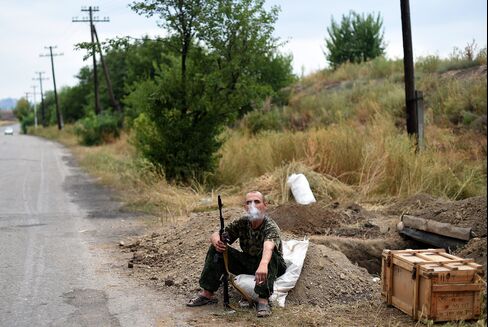 Look closely at the bulls pouring into Russian stocks this month and signs emerge that they have doubts about their new investments.
While more money has flowed into the biggest exchange-traded fund tracking Russian stocks than at any time since March, the cost of hedging against losses in the shares has also risen to a 17-month high. That indicates concern their wagers could sour if an anticipated easing of the military conflict in neighboring Ukraine fails to develop.
"It's a very difficult market right now," Gary Greenberg, an emerging-markets money manager who helps oversee 26.9 billion pounds ($45 billion) at Hermes Fund Managers Ltd., said by phone from London. "It's not clear where this is going. In the short term, it's entirely possible that Russian stocks will fall lower."
Markets have whipsawed investors since President Vladimir Putin's annexation of Crimea in March initiated a conflict that has led the U.S. and European Union to impose economic sanctions on Russia. Stock buyers had been returning amid signs the conflict was waning as Putin and his Ukrainian counterpart Petro Poroshenko met at a summit in Belarus this week, helping the benchmark Micex Index to the longest stretch of gains since 2005.
Hedging Costs
That optimism was damped yesterday, sparking a plunge in stocks, amid signs the fighting between pro-Russian rebels and Ukrainian soldiers was intensifying again. The Market Vectors Russia ETF tumbled 3.1 percent, trimming its gain this month to 1.3 percent. The ETF, which has received inflows of almost $200 million in August, is down 16 percent this year.
Russia's Micex Index dropped 1.5 percent at 5:54 p.m. in Moscow, trimming its gain this month to 1.7 percent. The Bloomberg Russia-US Equity Index of the most-traded Russian stocks in the U.S. slipped 1.2 percent today.
Investors have been ramping up bearish wagers on the ETF to protect against new selloffs. Options hedging against a 10 percent decline in the Market Vectors Russia ETF cost 5.9 points more than calls to buy, according to three-month implied-volatility data compiled by Bloomberg. That's about 13 percent above the average cost of protection over the past year. The premium for puts over calls increased to a high of 8.1 points on Aug. 25.
Insurgents Advance
"Investors are scared of uncertainty and trying to get protection," Anastasia Levashova, who helps manage $500 million in emerging-market equities at Blackfriars Asset Management Ltd. in London, wrote in an e-mail. "The key parties to the conflict are interested in a cease-fire before the end of October 2014, but until some clear compromises are established there will be a lot of leaks from all sides destabilizing the market."
U.S. President Barack Obama said that Russia faces "more costs and consequences" for repeatedly violating the sovereignty and territorial integrity of its former Soviet republic neighbor. France and Germany threatened Putin with tougher sanctions yesterday. Poroshenko convened an emergency security meeting to defend against what he called a "de facto" Russian incursion into his country.
The five months of unrest have sparked the worst standoff between Russia and its former Cold War foes in two decades and prompted sanctions on both sides. Violence surged a day after Putin hailed the Belarus talks as a step toward peace. He said cease-fire terms weren't discussed because Russia isn't a party to the conflict. His spokesman, Dmitry Peskov, declined yesterday to comment on Ukraine's claims of an invasion.
Recession Risk
While the Micex Index rallied for 10 days through Aug. 21 and has risen 15 percent from its March 14 low, it is down 5.7 percent this year. The benchmark trades at 5 times projected 12-month earnings, the cheapest in emerging markets.
Russian stocks have bounced back from previous plunges linked to the war. The Micex has recouped all except 0.6 percent of the 7.4 percent loss it posted in the weeks after a Malaysian Airline System Bhd. jet was shot down by a surface-to-air missile in eastern Ukraine on July 17.
The chance of Russia's economy tipping into a recession is rising as the standoff over Ukraine threatens to capsize the $2 trillion economy. The probability of a recession in the next 12 months rose to 65 percent from 50 percent, the highest since the first such Bloomberg survey in June 2012, according to the median estimate of 26 economists in the poll.
"If today's events cause Europe to stiffen sanctions then that may push Russia into recession," Ilya Kravets, the New York-based director of investment research at Daniloff Capital LLC, said by phone yesterday. "There is a greater risk of Russian markets falling because of that."
Before it's here, it's on the Bloomberg Terminal.
LEARN MORE