Ruble Drops to Record as Stocks Fall on Ukraine; Wheat Advances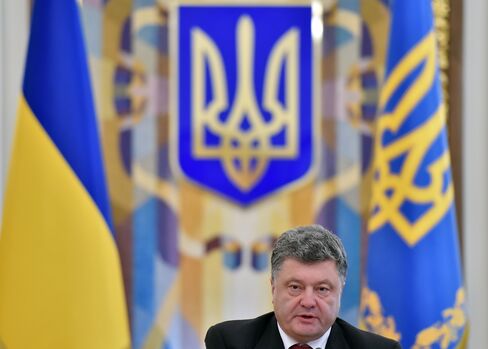 The ruble weakened to a record and stocks fell as concern deepened Russia may face more sanctions and JPMorgan Chase & Co. said the country's equities could face a "Lehman-style" shock amid a worsening crisis in Ukraine. Wheat extended its first monthly advance since April.
The currency weakened 0.7 percent to 37.0130 against the dollar at 6:10 p.m. in Moscow, after dropping to a low of 37.0260. The Micex Index slid 1.6 percent. Ukraine's July 2017 Eurobonds fell for an eighth day, the longest slump since March 2013. Wheat rose a fourth day on concern the conflict will reduce supplies from the Black Sea region.
An escalation of fighting in eastern Ukraine prompted calls by the European Union to threaten further penalties and U.S. President Barack Obama said yesterday Russia faces "more costs and consequences" for violating the sovereignty of its neighbor. Ukrainian President Petro Poroshenko called the offensive a "de facto" incursion by Russia. Risks from sanctions could be "open-ended," implying a 50 percent drop in the Micex based on lows after the collapse of Lehman Brothers Holdings Inc. in 2008, JPMorgan said in a research report.
"Ukraine's statements about Russia's military presence on its territory are concerning signals and a clear symptom that there may be new sanctions," Artem Roschin, a foreign-exchange dealer at OOO KB Aljba Alliance bank in Moscow, said by phone. "Investors are scared of intensified military activities and a start of military clashes between Russia and Ukraine."
Sanctions already imposed by the U.S. and Europe are exacerbating a slowdown that threatens an economy teetering on the brink of a recession. Gross domestic product will grow 0.5 percent this year, the slowest since a 2009 contraction, according Economy Ministry forecasts.
Downside Risks
While equities face downside risks to a worsening conflict in Ukraine, there are significant differences to the current situation and the 2008-2009 crisis, JPMorgan analyst Alex Kantarovich said in an e-mailed note. The oil price is "holding up" and the economic contraction "may not be that deep," he said.
"With several false dawns since the start of the conflict, the markets may no longer assume a quick and easy resolution of the conflict and 'worse before better' seems a likely sequence to us; we thus recommend reducing exposure to Russia and differentiating carefully among the sectors and names," Kantarovich said.
More than 1,000 of Russian President Vladimir Putin's troops are operating inside Ukraine, manning sophisticated weaponry and advising local separatists, the North Atlantic Treaty Organization said yesterday.
Putin's Troops
The escalation, denied by Russia, prompted a warning of "consequences" from U.K. Prime Minister David Cameron, and German Chancellor Angela Merkel said EU leaders would discuss new sanctions this weekend.
Today's decline in the ruble sent it down 32 percent in August. The ruble weakened 0.7 percent to 48.7605 per euro, the third day of declines. The yield on benchmark ruble notes maturing February 2027 rose two basis points to 9.74 percent after gaining the most since March 12 yesterday. The currency is the worst performer against the dollar among 24 emerging markets this year after the Argentinian and Chilean pesos, data compiled by Bloomberg show.
Stocks fell for a second day, extending this week's decline to 3.1 percent.
Sell Stocks
Morgan Stanley cut Russian shares to underweight from neutral, citing the rising risk of sanctions following the latest escalation in Ukraine, according to today's e-mailed note.
"Escalation puts the 'investability' of Russia into question," analysts led by Ronan Carr said in an e-mailed note. "In our worst-case scenario involving full sanctions, a material portion of the listed stock market in Russia could become uninvestable for many investors."
The yield on Ukraine's Eurobond rose 40 basis points to 12.61 percent, a three-month high.
Wheat futures were at $5.7275 a bushel on the Chicago Board of Trade today, set to gain 2 percent this week. They surged 8 percent in August, and reached $5.7925 yesterday, the highest since July 3. Futures rebounded 11 percent since touching a four-year low on July 29 as the conflict worsened.
Russia and Ukraine together will account for 21 percent of global wheat exports in 2014-15, according to U.S. Department of Agriculture data.
Before it's here, it's on the Bloomberg Terminal.
LEARN MORE