Pakistan Talks to Resume as Minister Backs Election Probe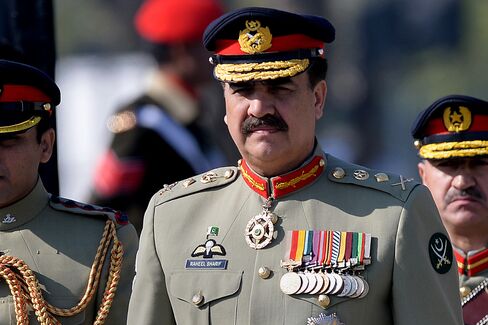 Pakistan and protest leaders will resume talks tomorrow to resolve a standoff over the legitimacy of last year's elections, after the Finance Minister said the government would concede to a judicial probe of the vote.
A group representing demonstrators didn't reach an agreement following negotiations with government representatives today, Asad Umar, leader of Pakistan Tehreek-e-Insaf, one of the opposition parties involved in the protests, said by phone. The government agreed in principle to a judicial probe of alleged fraud during the 2013 general elections, Finance Minister Ishaq Dar said late yesterday.
Protesters, led by opposition politician Imran Khan and cleric Tahir-ul-Qadri, have held two weeks of demonstrations calling on Prime Minister Nawaz Sharif to resign over last year's vote. The unrest, which threatens to jeopardize a partially disbursed International Monetary Fund loan to the country, spurred a 5.8 percent retreat in the KSE 100 stock index in August, the biggest monthly drop in three years.
Should the investigation determine that the prime minister or his brother Shahbaz, the chief minister of the Punjab province, was involved in vote rigging, they would resign, Dar said in Islamabad. Sharif won't step down before such a finding, he said. The military stepped in to mediate the standoff on Aug. 28.
Demands from protesters that the country's leader quit immediately are "unreasonable," Dar told reporters yesterday. "All sides agree to a judicial commission."
Wider Demonstrations
Khan, whose opposition party took part in the talks, called for anti-government protests in Karachi, Lahore, Multan and Faisalabad today in an effort to widen the scope of the demonstration beyond the several thousand people camped in front of the national parliament building in Islamabad.
The nation's stock index jumped 2.9 percent yesterday, the largest advance in almost three years, after the military intervened. The army has ruled Pakistan for more than half its history and ousted Nawaz Sharif in a coup in 1999.
"When the army steps in, you get a comfort factor," Faisal Bilwani, head of equities at Elixir Securities in Karachi, said yesterday. "The fear of unrest and violence has subsided significantly now."
Army's Role
Army chief of staff General Raheel Sharif met Khan and Qadri in Islamabad early yesterday. General Sharif also held meetings with the prime minister in the two previous days. The Sharifs aren't related.
An investigation into deaths of 14 Qadri supporters in Lahore in June will probably be an element of a final resolution of the crisis, Bilwani said.
The military may gain a greater voice in foreign policy decision-making if it mediates a resolution, according to T.V. Paul, a professor of international relations at McGill University in Montreal and author of "The Warrior State: Pakistan in the Contemporary World".
"The Pakistani military doesn't want to rule directly at this point, but they wouldn't mind having more control over Sharif, in particular on India, Afghanistan and the Taliban," Paul said by phone from Montreal yesterday. "Veto power, that is what they want."
Civilian Government
Sharif's relations with the military have been strained as he seeks to improve ties with India and backs treason charges against former Prime Minister General Pervez Musharraf, the man who overthrew him. Last year's election marked the first-ever democratic transfer of power in the nuclear-armed nation of 196 million people.
"The only silver lining was this progression from one civilian government to another without military involvement, and that is really being challenged now," Paul said.
The standoff has weakened Sharif's government, according to Muhammad Imran, who helps oversee 24 billion rupees ($236 million) as chief investment officer of ABL Asset Management Co. in Karachi. "It will be tough making decisions, such as raising power tariffs, as they will face pressure from the opposition," he said by phone.
Pakistan and the IMF had agreed in September 2013 to a $6.6 billion loan that is being disbursed in tranches over 36 months to boost the nation's depleted currency reserves and help stabilize the economy. The country will end energy subsidies and curb a budget gap by raising funds through bond and asset sales as part of the deal.
Before it's here, it's on the Bloomberg Terminal.
LEARN MORE