Hong Kong Airlines Said Ready to Apply for Dual-Currency IPO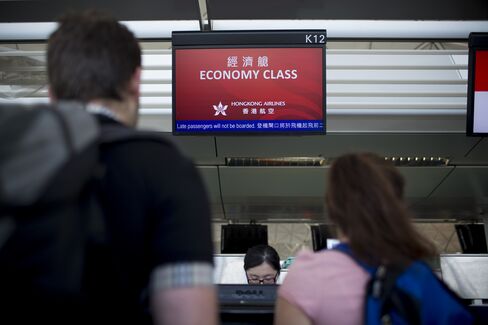 Hong Kong Airlines Ltd. plans to seek approval for the city's first dual-currency initial public offering, raising about $500 million, said people with knowledge of the matter.
The carrier, owned by China's HNA Group, will file an application to the Hong Kong stock exchange as early as today and expects to start the IPO in the fourth quarter, said the people, who asked not to be identified because the information is private. Hong Kong Airlines plans to sell shares denominated in yuan and Hong Kong dollars, they said.
The two other companies listed in Hong Kong whose shares are denominated in the Chinese currency have been dogged by sluggish trading, dealing a blow to the exchange's push for more yuan listings. Hong Kong Airlines is betting demand for yuan shares will recover as the currency rises and the Shanghai and Hong Kong exchanges set up a trading link.
JPMorgan Chase & Co. is leading the share sale as sole IPO sponsor, the people said. BOC International Holdings Ltd. is also working on the deal, they said. An external spokeswoman for Hong Kong Airlines declined to comment.
The yuan has risen 2 percent from the low of 6.2676 per dollar reached on April 30. Chinese-currency deposits in Hong Kong stood at 925.9 billion yuan ($151 billion) at the end of June, up 33 percent from a year earlier, according to data from the Hong Kong Monetary Authority.
Billionaire Li Ka-shing's Hui Xian completed Hong Kong's first yuan-denominated IPO in May 2011, raising 12.1 billion yuan. The average value of daily trading for Hui Xian was about $1.3 million over the last 12 months, 31 percent lower than for Hong Kong-traded Yuexiu Real Estate Investment Trust, whose market value is less than half of Hui Xian's, data compiled by Bloomberg show.
Exchange Link
In October 2012, Hopewell Highway Infrastructure Ltd. raised 386.4 million yuan in Hong Kong's first additional share sale denominated in the currency. The average daily turnover for the highway operator's yuan shares was about $90,219 over the last 12 months, less than 10 percent of its Hong Kong dollar stock, according to data compiled by Bloomberg.
The Hong Kong-Shanghai exchange link, which will allow individual investors from China to trade stock in Hong Kong, will help boost demand for yuan-denominated shares, said Pamela Chung, managing director of Computershare Hong Kong Investor Services Ltd., the city's biggest share registry company.
"The exchange link will bring a lot of yuan to Hong Kong from the north," said Chung. "It's a good time for companies that are well known among individual investors to market yuan-denominated stock."