Square Said in Talks for Funding at $6 Billion Valuation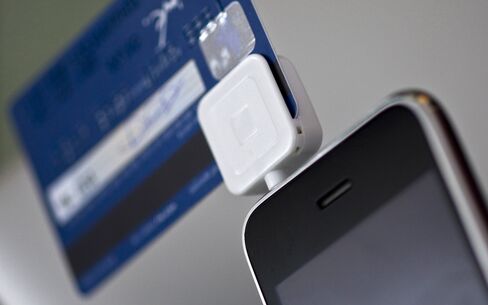 Square Inc., the mobile-payments startup co-founded by Twitter Inc. Chairman Jack Dorsey, is in talks to raise financing at a $6 billion valuation, according to a person with knowledge of the matter.
The San Francisco-based company is seeking about $200 million, with some of the funding coming from the Government of Singapore Investment Corporation, said the person, who asked not to be identified because the matter is private. That would push Square's valuation up from about $5 billion earlier this year.
Aaron Zamost, a spokesman for Square, declined to comment. A spokesman for GIC didn't immediately provide comment. CNBC earlier reported on Square's financing discussions.
Square is one of a crop of technology startups to target a large valuation as investors bet on companies that are at the forefront of the shift to digital and mobile services. Snapchat Inc., the ephemeral messaging service for smartphone users, is also near a round of funding at a valuation of about $10 billion from investors including venture capital firm Kleiner Perkins Caufield & Byers, a person with knowledge of the matter said this week. In June, mobile car-booking application Uber Technologies Inc. landed a $17 billion valuation in a funding round.
Big Rivals
Square faces plenty of competition from larger Web companies, including EBay Inc.'s PayPal payments unit and Amazon.com Inc. Amazon earlier this month unveiled Amazon Local Register, a free smartphone and tablet application and $10 card reader that plugs into a handheld device. The software will let merchants accept major debit and credit cards as well as check metrics such as sales trends and bottom-line performance.
Given the competition, Square has been dogged by speculation that it has tried to sell itself or faces delays in going public, which the company addressed in a blog post this month. In the memo, Square said it was well capitalized and spending its money wisely.
"Reports that we tried to sell the company or of a delayed IPO? False," Square wrote in the post. "We're here for the long term."
Square began offering a stamp-sized credit-card reader in 2009 that lets merchants accept payments on the go, originally targeting small proprietors. The company charges a fee of 2.75 percent per transaction, along with free software. Its investors include Kleiner Perkins Caufield & Byers, Sequoia Capital and Khosla Ventures.