Speed Traders Seize NYSE Floor as IMC Takes Goldman Post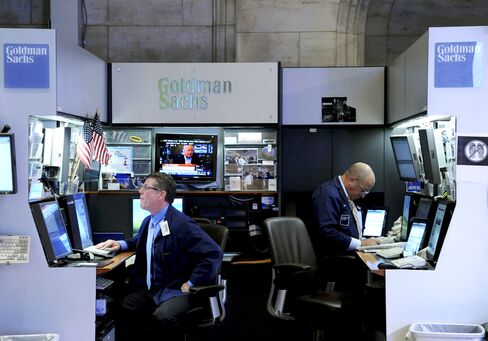 When Scott Knudsen rang the opening bell at the New York Stock Exchange this week, he signaled the ceremonial start of the day's session and the conquest of the NYSE floor by high-frequency trading firms.
His firm, IMC Chicago LLC, just finished its takeover of Goldman Sachs Group Inc.'s NYSE unit, giving it rights to manage buying and selling of dozens of stocks including prominent ones like International Business Machines Corp., Verizon Communications Inc. and Visa Inc.
IMC joins rival automated trading firms Virtu Financial Inc. and KCG Holdings Inc. facilitating transactions at the NYSE in lower Manhattan, a role once filled solely by humans. While these high-frequency traders, so named because of the speed with which their computers trade, are often reviled by the people they've displaced, they're becoming more dominant.
"This illustrates how market makers from the traditional liquidity suppliers of banks and broker-dealers have been unable to compete in the decentralized, fully electronically traded market," Terrence Hendershott, a professor at the University of California at Berkeley's business school, said in an e-mail.
The ascent of automated market makers on the NYSE floor represents the latest leg of an evolution that began about a decade ago, when investment banks such as Goldman Sachs began to supplant smaller specialist firms. As advances in technology and rule changes narrowed profits and transformed stock trading into a volume business, computers took over.
'Best Suited'
"Given IMC's specialized focus on market making and already extensive exchange-based trading operations, we believe IMC is best suited to drive" the NYSE floor operation, Todd Hohman, managing director and global head of the quantitative trading business at Goldman Sachs, said in a May 22 statement. IMC hired the investment bank's team of 15 floor traders, two technologists and an issuer relations manager.
Goldman Sachs was seeking as much as $30 million for the business, a person familiar with the discussions said in April. The investment bank, which joined the NYSE in 1896, bought the operations in 2000 as part of a $5.4 billion purchase of Spear Leeds & Kellogg.
With Goldman Sachs's exit, the only bank at the NYSE floor is Barclays Plc.
Knudsen, managing director and head of trading at IMC in Chicago, said the firm's move to the NYSE floor was a natural extension of its business.
'Can't Ignore'
"We are and have been in the process over the past couple of years of building up our equity market-making business, so NYSE is an exchange we can't ignore," Knudsen said in a phone interview.
IMC was founded in Amsterdam in 1989, and operates both a trading unit and an asset-management division. The firm conducts transactions on 100 markets around the world, according to its website.
At a time when high-speed traders face unprecedented regulatory and legal scrutiny, IMC, KCG Holdings and Virtu are now three of the largest traders at the NYSE, whose listed companies are worth more than any other exchange's. They thrived amid years of modernization and efforts to break the grip of NYSE and the Nasdaq Stock Market on trading.
The average size of trades on NYSE Group's exchanges in the first seven months of the year was about 240 shares, compared with 1,187 in 2000. In 1988, the average was 2,303 shares per trade. Along with that reduction, minimum trading increments have fallen from an eighth of a dollar to one cent. In other words, market making isn't as lucrative as it once was.
'Building Scale'
"It's all about building scale to deal with the narrow spreads," Chris Concannon, president of Virtu, which has eight traders on the NYSE floor, said in an interview. "If you're a small company with excellent technology, it becomes profitable over time."
Designated market makers like IMC are required to offer trades at the national best price at least 15 percent of the time in the stocks for which they're registered, and are compensated with better trading fees by the exchange.
While electronic trading firms have taken over at the NYSE, their role at the Big Board also sees them employ human traders who man the posts at 11 Wall Street, the only stock trading floor in the U.S. Knudsen said it's a model that's liked by the corporations listed on the exchange.
"We do recognize in talking to some of these issuers the real advantages in having people on the floor to help out with the IPO process and during any sort of market disruptions that come about, and that's just something we wanted to be a part of," Knudsen said.
Intercontinental Exchange Inc., based in Atlanta, pledged to preserve the trading floor when it agreed to buy the exchange in 2012. ICE Chief Executive Officer Jeff Sprecher completed the takeover of NYSE in November.
"We did have a conversation with Jeff before we committed to this acquisition, making sure that he was committed to the NYSE as well," Knudsen said. "We gained a lot of confidence from him that they are committed to this model. It is a big distinguishing factor, if you compare it to the different equity markets."