Spanish Economy Strengthens While Consumer Prices Drop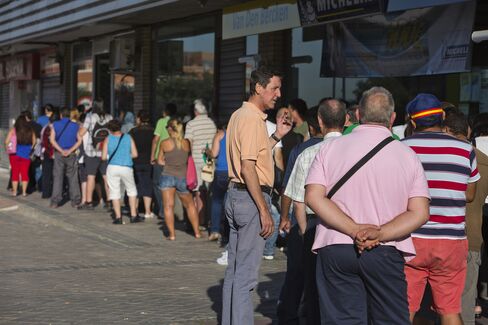 Domestic demand drove faster economic growth in Spain last quarter, while consumer prices extended a decline in August that has sparked a debate about another round of European Central Bank stimulus.
Gross domestic product rose 0.6 percent as household spending and investment advanced, the National Statistics Institute in Madrid said today, confirming its first estimate. Consumer prices fell 0.5 percent in August from a year ago, the sharpest decline since Oct. 2009, it said in a separate release.
Two years since applying for a European Union rescue, Spain has become one of the fastest-growing euro-area economies. A slowdown in the 18-nation region, which includes its main trading partners, is now putting the country's recovery at risk and threatens to derail efforts to reduce the EU's fourth-largest budget deficit and second-highest jobless rate.
"Spanish prospects remain inextricably linked to those of the rest of the euro area," said Timo del Carpio, an economist at RBC Capital Markets in London. "As the release in pent-up domestic demand subsides, external demand needs to gather pace to support a more broad-based and self-sustaining recovery."
Consumer prices fell less in August than the 0.6 percent drop economists predicted in a Bloomberg survey. Still, it's the second straight decline, and the third in six months.
Recovery Risk
"Deflation remains a risk to the recovery," Victor Echevarria, an economist at BNP Paribas SA in London, wrote in a note today. Headline inflation "is likely to remain in negative territory as businesses pass on to prices the sharp fall in labor costs in 2009-2012," he said.
Household spending growth accelerated to 0.7 percent in the second quarter from 0.5 percent. Investment rebounded, with a 0.5 percent gain after a 0.7 percent drop in the first quarter.
"Spain isn't in a situation of deflation defined as one in which demand and prices are falling, leading to a continued process of prices declines," Spanish Deputy Economy Minister Fernando Jimenez Latorre told reporters in Madrid today.
Spain will end the year with consumer-price increases and the government will increase its growth forecasts next month, he said. "Domestic demand is increasing while prices are experiencing one-off drops due to structural reforms improving efficiency or for reasons of volatility."
Carrefour SA, France's largest retailer, reported first-half profit last month that exceeded analysts' estimates as sales strengthened in European countries including Spain, its third biggest market. Banco Santander SA, Spain's biggest-bank, said on July 31 that second-quarter profit rose 38 percent, helped by a recovery in its home market.
Export Boost
Exports' contribution to economic activity improved as foreign sales gained 1.3 percent after a 1 percent drop in the first quarter. Government spending increased 0.1 percent after rising 4.4 percent in the previous three months.
As Spain strengthens, growth in the euro area ground to a halt amid weakness in its three largest members. Paired with inflation at a fraction of the ECB's mandate and sliding investor bets on future prices, ECB President Mario Draghi said last week that policy makers will use "all the available instruments needed to ensure price stability."
Policy makers will meet in Frankfurt next week and may discuss whether more stimulus is needed to complement a historic package announced in June.
In Spain, growth may reach 1.5 percent this year and 2 percent in 2015, according to the economy minister. The economy shrank 1.2 percent in 2013. The turnaround has boosted investor confidence in its stocks and bonds. The Ibex-35 index of leading companies has gained about 8 percent this year while the yield on the 10-year bond has fallen to about 2.2 percent from a euro-era high of 7.75 percent in 2012.
Still, unemployment remains close to a record high of 26 percent, and the nation's public debt load has more than doubled since 2007 to close to 100 percent of gross domestic product. The budget deficit, although shrinking, is set to breach the EU limit for an eighth year in 2015.
Before it's here, it's on the Bloomberg Terminal.
LEARN MORE