Pakistan Army Chief Intervenes in Crisis as Stocks Surge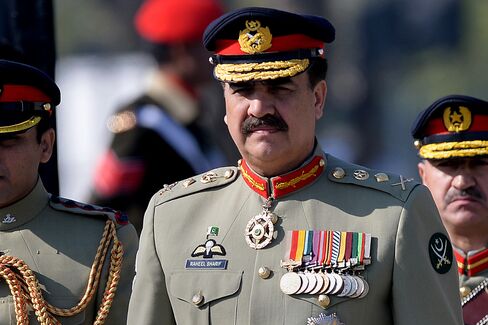 Pakistan's army chief intervened in the country's political standoff by meeting the opposition leaders trying to oust Prime Minister Nawaz Sharif, a move that sent stocks surging.
General Raheel Sharif met Tehreek-e-Insaf chief Imran Khan and cleric Tahir-ul-Qadri in Islamabad yesterday. General Sharif met with the prime minister for the second time in two days as the premier sought the military's help in ending two weeks of protests. The two are not related.
The two sides bickered over how the army entered the fray. Sharif told Parliament today that Khan and Qadri sought the intervention of the military, while Qadri said today that Sharif had made the request and that the army was reluctant to get involved.
The military "will probably intervene in a way that produces a political agreement," said Kim Chan Wahn, a professor at the Graduate School of International and Area Studies of Seoul's Hankuk University of Foreign Studies. "It could ask Sharif to promise not to weaken its power in return for supporting him, or side with opposition by asking for a referendum on the vote-rigging allegations."
Relations Strained
The intervention of the Pakistan Army, which led a 1999 coup against Sharif's previous government, could speed the resolution of the political crisis fueled by opposition allegations of vote fraud in last year's election that brought Sharif back to power. Relations between Sharif and the military have been strained by his efforts to improve ties with India and his backing for treason charges against former Prime Minister General Pervez Musharraf.
The KSE 100 stock index rose as much as 3.8 percent, and was gaining 2.4 percent at 3 p.m. in Karachi, leaving it on track for the biggest one-day advance since almost a year. The Pakistan rupee gained 0.4 percent to 101.6 to the dollar.
The protests have weighed on markets, with the KSE 100 down 6.1 percent in August, even with today's gain.
"I don't think the Pakistan army would want to do a coup," said Anit Mukherjee, an assistant professor in the South Asia Programme at the S. Rajaratnam School of International Studies in Singapore. "I think it'll know that if it does a coup it will be internationally isolated, there'll be a lot of domestic backlash. They have understood that the last time that there was a coup there was a lot of opposition."
Lahore Killings
Qadri supporters turned up the heat on Sharif filing a case seeking murder charges against the premier and his brother over the killing of 14 of Qadri's backers in clashes with police in Lahore in June. The police will now investigate the allegations to determine whether there is enough evidence to bring charges, Sadiq Hidayatullah, a vice president of the supreme court bar association, said in an interview.
The army seeks an agreement acceptable to both sides, which includes electoral reforms and holding police accountable for the Lahore deaths, Qadri told his supporters last night.
"The army is passing a firm message to the political spectrum to resolve their differences," said C. Uday Bhaskar, Director of the Society for Policy Studies in New Delhi. "The army is going to establish itself as an arbitrator and burnish their own credibility in the Pakistani power loop."
Thousands of protesters remain camped outside parliament in Islamabad and Khan pledged to keep up the protests unless Sharif steps aside.
Biggest Success
"Nawaz Sharif's resignation will be your biggest success," Khan said in an address to supporters after the meeting. "Unless Sharif resigns, our protest will continue. All our demands have been met, save one."
Sharif has agreed to five of six demands made by Khan and Qadri, including the filing of a police report linking him to violence in Punjab province, Rana Sanaullah, a lawmaker for Sharif's Muslim League party, said on Dunya TV.
Qadri added in his own speech that both Sharif and his brother Shahbaz have to resign for talks to progress. Shahbaz Sharif is chief minister for the country's Punjab province, and Qadri blames him for the deaths of the 14 workers in Lahore in June.
Before it's here, it's on the Bloomberg Terminal.
LEARN MORE