Russian Recession Risk Seen at Record High Amid Sanctions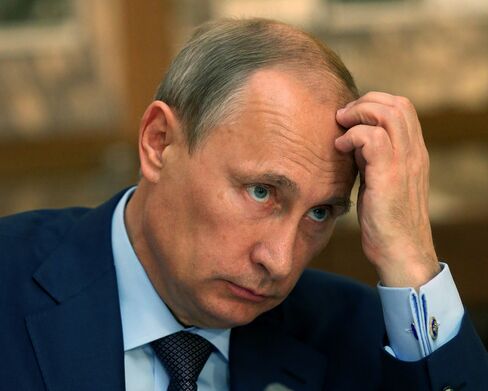 The chance of Russia's economy tipping into a recession is rising as the escalating crisis in Ukraine raises the risk of the government in Moscow retaliating with further import bans, according to a survey of analysts.
The probability of a recession in the next 12 months rose to 65 percent from 50 percent, the highest since the first such Bloomberg survey in June 2012, according to the median estimate of 26 economists in the poll. Russia will enact additional restrictions in retribution for sanctions imposed by the U.S. and the European Union, according to 15 of 25 economists. Of those, 12 expect Russia to target cars and consumer goods.
The standoff with the U.S. and its allies over Ukraine is capsizing Russia's $2 trillion economy. The ruble weakened, inflation accelerated and capital flight quickened as the two sides exchanged salvos of sanctions. After the U.S. and the EU blacklisted some Russian individuals and businesses, President Vladimir Putin this month banned imports of some food products.
"After the last round of sanctions and somewhat unexpectedly harsh Russian retaliation, which is going to hurt it more than the Western countries, it is becoming obvious that economic reasoning was not found in Russian policy makers' toolkit," Nerijus Maciulis, chief economist at Swedbank Lithuania in Vilnius, said by e-mail.
Russian sovereign ruble bonds have declined 11.23 percent since the beginning of the year, compared with a 6.23 percent advance for the Bloomberg Emerging Market Local Sovereign Index. The ruble has lost more than 10 percent against the dollar this year.
Russia's Role
Ukraine and its allies blame Russia for aiding the separatist insurgency with manpower and weapons. The government in Moscow says it isn't involved in its neighbor's unrest in which more than 2,000 people are estimated by the United Nations to have been killed.
Putin, after a meeting with Ukrainian President Petro Poroshenko in the Belarusian capital Minsk on Aug. 26, said he "will do everything for this peace process." Even so, Poroshenko today called an emergency security meeting to defend against what he called a "de facto" Russian incursion after separatists gained ground in intensified fighting.
Russia's economy will grow 0.3 percent this year, according to the median estimate of 38 economists in a separate Bloomberg survey, down from 0.5 percent predicted last month. The economists cut their 2015 growth forecast to 1.3 percent from 1.6 percent.
Forecast Cut
The Economy Ministry in Moscow this week lowered its growth forecast for next year to 1 percent from 2 percent in its base-case scenario, citing accelerated inflation and the sanctions' impact. It left its 0.5 percent estimate for this year's expansion unchanged.
At the same time, there are signs of weakening resolve on the part of Russia's adversaries as fewer economists surveyed by Bloomberg believe that more onerous penalties will be imposed against Putin's government. Thirty-nine percent of analysts says the EU may introduce further measures, down from 48 percent last month. The U.S. will enact direct economic sanctions, according to 54 percent of economists, compared with 79 percent last month. Analysts now see the U.S. targeting Russia's energy, banking and weapons industries.
Putin is increasingly likely to retaliate with further restrictions of his own. These may include overflight bans and curbs on Russian tourism, Wolf-Fabian Hungerland, economist at Berenberg Bank in Hamburg, said by e-mail.
"We certainly have further Russian measures on the radar," Hungerland said. "Putin wants to save face toward his domestic audience, while generating some momentum for his position during negotiations. Economically rather small, but still very tangible 'protective measures' may serve exactly this purpose in the eyes of Moscow."
Before it's here, it's on the Bloomberg Terminal.
LEARN MORE