Nigeria Finds First Ebola Death Outside Lagos, Ministry Says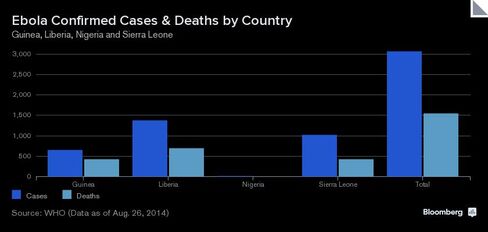 Nigeria recorded its first Ebola death in the southern oil city of Port Harcourt after a doctor tested positive posthumously, Health Minister Onyebuchi Chukwu said.
The death on Aug. 22, Nigeria's sixth from Ebola, is its first outside of commercial hub Lagos, where Liberian civil servant Patrick Sawyer introduced the virus to Africa's most-populous country in July. Sawyer and four of the health workers who treated him also died of Ebola.
The new victim was a doctor in Port Harcourt who treated a man who had contact with Sawyer and survived, Chukwu said today in an e-mailed statement. Nigeria has had 15 reported cases of Ebola. The authorities have 70 people under surveillance in Port Harcourt, a city of about 1 million.
The spread of the virus to another economically important city is a "blow to President Goodluck Jonathan's administration," Manji Cheto, vice-president at corporate advisory company Teneo Intelligence, said today in e-mailed comments from London.
"It raises questions about the credibility of the health minister, who has recently been facing domestic criticism for his ostensible self-congratulatory stance and eagerness to declare the country Ebola-free," he said.
Ebola has infected more than 3,000 people and killed 1,552, according to the World Health Organization. The vast majority of those cases were in Guinea, Liberia and Sierra Leone, West African countries which don't border Nigeria.
Nigeria has "deployed a very strong team to Port Harcourt to work with the health authorities of Rivers State," Chukwu said.