NFL's Domestic Violence Change Celebrated by Activists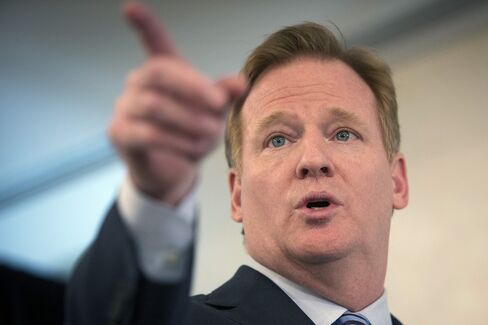 The National Football League's new policy to ban for life anyone found guilty of a second sexual assault or domestic abuse offense was met with a mixture of optimism and skepticism by activists who have argued for change.
NFL Commissioner Roger Goodell announced the new discipline yesterday in a letter to league owners. In it, Goodell said the league had allowed its standards to "fall below" an acceptable level, and that he erred on ruling in a recent case of domestic violence within the NFL.
"This is a good start, so I don't want to come down too heavy because we do want the NFL to make progress, but this is not the be-all-end-all," said Terry O'Neill, president of the National Organization for Women. "It's only progress and they're a long ways from doing it right."
O'Neill and other women's rights activists criticized the NFL for its previous approach, which resulted last month in a two-game ban for Ray Rice of the Baltimore Ravens following a physical altercation with his then-fiancee.
Rice knocked her unconscious, according to Sports Illustrated, and video footage showed the All-Pro running back dragging her out of an elevator at a New Jersey casino. Rice later said his actions were "inexcusable," and his now-wife apologized for her role.
Season Ban
There was more criticism this week after an arbitrator upheld a season-long ban for Cleveland Browns wide receiver Josh Gordon for what ESPN said was a positive marijuana test.
While Goodell didn't name Rice in the letter, he mentioned a "recent incident of domestic violence" in which discipline was handed down. He said he "didn't get it right" when issuing that punishment.
"Domestic violence and sexual assault are wrong," Goodell wrote. "They are illegal. They have no place in the NFL and are unacceptable in any way, under any circumstances."
Shaunna Thomas, co-founder of women's rights advocacy group UltraViolet, which has petitioned the NFL for change, called yesterday a "huge day for women and football." Ruth Glenn, interim director of the National Coalition Against Domestic Violence, said it was a "step in the right direction."
"These players have an impact on society at large and setting an example in regards to the tolerance of violence off the field, and particularly as it relates to women and children, is very important," Glenn said in a telephone interview.
1.3 Million Assaults
An estimated 1.3 million women are victims of physical assault by an intimate partner each year, according to the coalition. The organization said one in four women will experience domestic violence.
Under the new policy, NFL personnel -- including players and executives -- who violate the league's personal conduct policy regarding battery, domestic violence or sexual assault will be subject to a six-game suspension without pay for a first offense. The punishment for a second offense will be banishment from the league.
The six-game suspensions may be longer if the circumstances warrant, Goodell said, citing potential violence involving a weapon. Anyone who receives the lifetime ban will be allowed to petition for reinstatement after a year, Goodell said.
Jaime Schultz, a kinesiology professor at Pennsylvania State University who specializes in gender studies and sports history, said the NFL's handling of that first appeal will be telling.
"The proof will be in the pudding," she said. "And that's bound to be some pretty nasty pudding."
Stay Skeptical
Schultz said that, while yesterday's announcement was significant, it was important to maintain a degree of skepticism. O'Neill, president of NOW, went a step further, highlighting two problems she has with Goodell's message.
Firstly, O'Neill objected to a part of the letter regarding services the NFL offers to those deemed at risk. Goodell wrote that "persons who decline this assistance will be held accountable for that decision in determining discipline for any subsequent act of domestic violence or sexual assault."
"That phrase is pretty hostile," O'Neill said. "That is not creating an environment in which a woman who's in a violent relationship will feel safe and able to advocate for herself."
O'Neill also said the NFL has not addressed women's equality within the sport. She cited objectivity of cheerleaders, the lack of many female executives and referees, and what she called the "very little" the league has done to encourage female participation from elementary school and above.
"That just creates an atmosphere in which it is not likely that men within the NFL are going to be able to treat women with respect," she said. "Until the NFL really understands equality, I predict they are going to continue to make mistakes, they are going to continue to fail to provide a safe space for spouses and partners of their players."
Education Push
The new discipline will be accompanied by more thorough educational initiatives regarding domestic violence and sexual assault, according to Goodell's letter. The commissioner also said that the league is "working to strengthen" its discipline for impaired driving.
The most popular sports league in the U.S., the NFL has annual revenue around $9.7 billion. Schultz, the Penn State professor, said the league's prominence and popularity enhances the impact of yesterday's changes.
"If the league sends the message that it will not tolerate these crimes, then that sends a powerful message," she said. "Let's hope it's one that resonates with larger society.
Before it's here, it's on the Bloomberg Terminal.
LEARN MORE