National Australia Bank Plans U.S. Exit to Boost Capital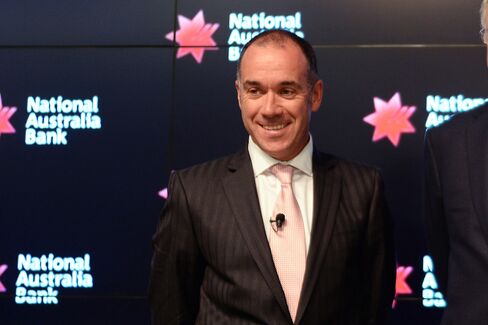 National Australia Bank Ltd., the nation's largest lender by assets, plans to sell its U.S. unit to free up capital and focus on its domestic business.
NAB will sell a minority stake through an initial public offering next quarter and eventually exit Great Western Bancorp Inc., which it bought for $798 million in 2007, the Melbourne-based lender said in a regulatory filing today. The U.S. unit had shareholder equity of $1.4 billion on June 30, according to an S-1 filing made yesterday to register the offering.
Macquarie Group Ltd. estimates NAB can sell the Sioux Falls, South Dakota-based bank for at least 1.4 times book value. NAB Chief Executive Officer Andrew Thorburn, who took over Aug. 1, said in the statement he wants to build a stronger Australian and New Zealand business. He made no mention of prospects for the company's U.K. business, which faces compensation claims related to insurance and hedging products.
"It's a step in the right direction, albeit small," Michael Wiblin, a Sydney-based analyst at Macquarie, said by phone. "It's not the same as exiting the U.K., which has the tail risk from misselling payment-protection insurance and hedging products."
NAB is setting aside more than 245 million pounds ($406 million) for compensation related to the claims, it said Aug. 18. The U.K. operations have weighed on the bank, with mounting bad debts in 2012 triggering the first drop in full-year earnings since 2009.
Worst Performer
Shares of NAB climbed 1.1 percent to a four-week high of A$35.15 at 10:43 a.m local time. The stock remains the worst performer among the nation's lenders in Sydney trading this year. The benchmark S&P/ASX 200 index was up 0.1 percent today.
Great Western Bank concentrates on lending in the agricultural industry and has 162 branches in seven states, National Australia said in the statement.
The unit reported net income of $77.1 million in the nine months ended June 30, up from $69.9 million a year earlier, according to the S-1 filing. It had revenue of A$375 million, the least among National Australia's operating units, data compiled by Bloomberg show.
Macquarie estimates a full sale will add 29 to 54 basis points to NAB's Tier 1 capital ratio if the exit was at 1.4 times to 2.2 times book value. A sale of its U.K business would release 35 to 105 basis points, Wiblin said in a note Jan. 28.
Capital Ratio
NAB reported a common equity Tier 1 ratio, a measure of its ability to to absorb future losses, of 8.46 percent as of June 30. The bank and its three domestic rivals -- Commonwealth Bank of Australia, Westpac Banking Corp. and Australia & New Zealand Banking Group Ltd. -- are required by the nation's regulator to hold at least 8 percent by January 2016.
Great Western bought some assets of TierOne Corp. for $76 million in June 2010. It purchased First Community Bank's Colorodo franchise in 2009 and North Central Bancshares Inc. in 2012, according to the S-1 filing.
Deutsche Bank AG and Bank of America Corp. are the joint book-running managers and underwriters for the share offering, National Australia said.
The IPO "provides us with the opportunity to further focus our attention on our core business," Thorburn said in the statement. National Australia will be free to sell further stakes after a 180-day lockup period following the offering.
Before it's here, it's on the Bloomberg Terminal.
LEARN MORE