Manning Fined for Taunting Player Who Injured Welker, ESPN Says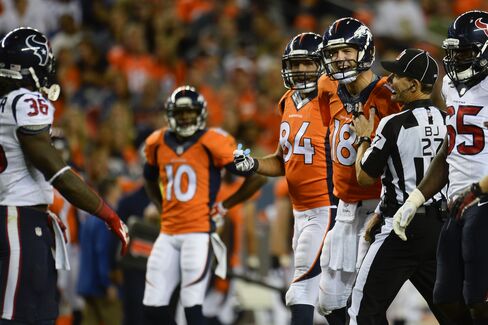 Peyton Manning was fined $8,258 by the National Football League for taunting the player who gave his Denver Broncos teammate a concussion, according to ESPN.
After throwing a touchdown pass in the second quarter of Denver's preseason game Aug. 23 against the Houston Texans, Manning ran up to D.J. Swearinger and said something to the safety. Earlier in the game, Broncos receiver Wes Welker suffered a concussion on a hit by Swearinger.
Manning, who was flagged on the play, told reporters after the game that a 15-yard penalty with five seconds left in the half was "a good time" for the first unsportsmanlike conduct penalty of his 16-year career, according to ESPN. He will pay the fine without appeal, the network said.
"It's money well spent," Manning said, according to ESPN.
NFL spokesman Jon Zimmer said in an e-mail that he wouldn't be able to confirm the report until tomorrow.
Manning, 38, was named the 2013 NFL Most Valuable Player, the fifth of his career. He's second all-time behind Brett Favre in completions (5,532), passing yards (64,964) and touchdowns (491).
Manning's base salary this year is $15 million.