Korea's Automakers Are Moving Away From Korea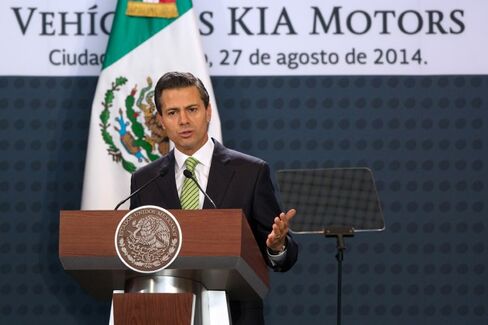 The news was big enough for Mexican President Enrique Peña Nieto to announce it himself. South Korean automaker Kia Motors will spend more than $1 billion to open its first factory in Mexico, he said today. The deal, which will also lead to an additional $1.5 billion from suppliers who will be setting up operations in Mexico to supply Kia, will see the automaker producing 300,000 vehicles annually by 2016, Vice Chairman Lee Hyoung-keun said. It's a victory for Mexico, and another sign of trouble for South Korea.
Back in Korea, workers at Hyundai Motor, the Korean automaker that controls Kia, were heading again to the picket lines after labor and management couldn't reach agreement on wages. Hyundai workers, who called a partial strike over the weekend, today staged another one. Labor strife is a regular event at Hyundai: The carmaker has had three strikes in the past three years and 22 in the past 26 years.
Since the start of the global financial crisis, Korea's automakers have been shifting production away from the country. Kia used to make almost 80 percent of its vehicles in South Korean factories, but now 60 percent are made there. The trend is similar at Hyundai, which controls Kia. In 2008, Hyundai made 60 percent of its vehicles in Korea, but now the country accounts for only about 40 percent of Hyundai production.
The average monthly manufacturing wage in South Korea was 4.6 million won ($4,530) at the start of 2014, 17 percent higher than two years earlier, according to Ministry of Employment and Labor data. At the same time, the Korean currency has been strengthening. Since the start of 2012, the won has appreciated 12 percent, even as Japanese automakers such as Toyota Motor have enjoyed a big boost from a 27 percent weakening of the yen. "Kia's high exposure to the strong won is one of its key risk factors," Moody's wrote in a report published today. Expanding overseas "will alleviate its vulnerability to fluctuating exchange rates," Chris Park, Moody's senior vice president, said in the report.
While Korea is becoming a pricey place to make cars, Hyundai's three Chinese factories can't produce vehicles fast enough. The average utilization rate for the company's China plants last year was 114.5 percent, according to a report published on Aug. 19 by Kiwoom Securities analyst Choi Won-kyoung.
Diversification is a smart strategy, of course, but it also reflects a drop in competitiveness for the company's home base. "Hyundai's volumes in South Korea have been little changed for two and a half years," Bloomberg Intelligence analysts Steve Man and Ji Shi wrote in a note published today. The decline in local production "is partly because rising wages have encouraged the automaker to add overseas factories in lower-cost countries, such as China, India, and the Czech Republic."
Hyundai and Kia aren't the only carmakers thinking twice about producing cars in South Korea. The local arm of General Motors, hit by higher labor costs, is reducing its operations in the country. GM Korea's export growth has been in the red since November, and so far this year overseas shipments have dropped 22 percent. Higher costs aren't the only problem for GM Korea. About 30 percent of its exports are Chevrolets heading to Europe, but the U.S. automaker is discontinuing Chevy sales there next year.
Before it's here, it's on the Bloomberg Terminal.
LEARN MORE