Italy May Sell $7 Billion in Eni, Enel Stakes to Cut Debt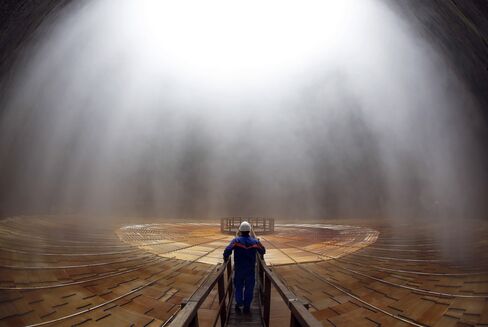 Italy may sell about $7 billion of stock in oil company Eni SpA and energy producer Enel Spa as part of an effort to cap the country's ballooning debt.
A Treasury official today confirmed newspaper reports that Prime Minister Matteo Renzi's government is considering a sale of close to 5 percent of Italy's biggest energy companies in the next few months. The Treasury owns about 30 percent of Rome-based Eni through both direct and indirect stakes and 31 percent of Enel.
"They're selling off the family silver because there's no other way to rustle up some quick cash," said Carlo Alberto Carnevale Maffe, a professor of business strategy at Milan's Bocconi University. "I would have sold the whole thing, while this is like selling a fork here, a knife there, yet keeping enough to still throw a good dinner party."
Italy is experiencing lower-than-expected economic growth with the country's central bank lowering its 2014 growth forecast last month to 0.2 percent, or less than a third of its previous prediction. That may undermine Renzi's plans to cut spending, reduce debt, and keep the country's deficit within the euro region's limit of 3 percent of gross domestic product.
Eni fell 1.3 percent to 18.8 euros at 2:30 p.m. today in Milan trading, giving the company a market-value of 68 billion euros, while Enel lost 2.2 percent to 4 euros giving it a market value of 38 billion euros. At current prices the sale of 5 percent stakes is valued at about 5.3 billion euros ($7 billion).
That's a fraction of Italy's 2.2 trillion euro debt. At the end of 2013 Italy's deficit-to-GDP ratio was at 3 percent. Finance Minister Pier Carlo Padoan told newspaper Corriere della Sera in an Aug. 27 interview Italy would keep to the EU target in spite of a downward revision of its GDP forecast.
Steered Clear
Previous governments have steered clear of selling stakes in Italy's biggest state-owned companies. In 2012, Mario Monti's government said it preferred to sell municipal-owned companies and other assets rather than dividend-rich Eni and Enel. In May, Padoan declined to comment on reports he wanted to sell stakes in the two energy producers.
In its economic and financial plan in April, the government said it planned to sell stakes in state-owned companies worth about 0.7 percent of GDP a year in the 2014-2017 period, bringing debt down to 125.1 percent of GDP from its estimate of 134.9 percent for this year. The government said it relied on the sale of stakes in Italy's mail service Poste Italiane SpA and air traffic controller to rein in swelling public debt.
With plans to sell government real estate and privatize other state-owned entities like Poste held up by bureaucratic and legal obstacles, Renzi may be forced to find quicker solutions.
Debt Ratio
In a June 17 report, the International Monetary Fund said "the government's privatization efforts should be completed quickly" and that Italy's "fiscal policy needs to strike a delicate balance between setting the debt ratio on a downward path while avoiding excessive tightening" that could harm economic recovery.
"Government must show its commitment to meeting revenue targets from privatizations," said Riccardo Barbieri, Chief European Economist at Mizuho International Plc in London. "If there were technical obstacles to immediate sales of stakes in Poste, Fincantieri, Enav, Sace, then the target must be achieved by reducing stakes in Eni and Enel."
A sale would have little direct impact on the companies, with the Treasury remaining the biggest shareholder in both. Eni Chief Executive Officer Claudio Descalzi and Enel CEO Francesco Starace, both government nominees for their posts, have just been appointed for three-year terms.
"Nothing changes for the companies," said Carnevale Maffe. "The government still has a strong grip which is why they're selling small bits. They're not willing to let go."
Before it's here, it's on the Bloomberg Terminal.
LEARN MORE