China Seeks to Protect South China Sea Submarine Gateway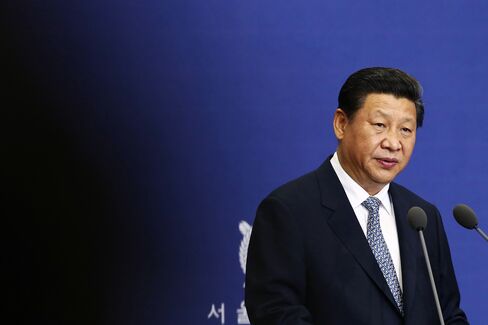 China's efforts to protect its submarine gateway to the South China Sea could broaden from standoffs with U.S. military planes to announcing an air defense identification zone, according to two retired army officers.
China could seek to restrict the air space around Hainan Island as the U.S. routinely runs surveillance flights in the area, retired Colonel Yue Gang said. The move would mirror a zone China set up in November over portions of the East China Sea disputed with Japan.
"Although it's premature to set up an air zone over the entire South China Sea at this moment, it makes sense to build a partial zone covering the waters near Hainan, where China's biggest nuclear submarine base is located," Yue said. Encompassing air space deemed international by the U.S. and by China as being within its exclusive economic zone, it would draw "red lines" for U.S. military flights.
The Ministry of National Defense did not respond to three calls seeking comment. The foreign ministry has previously said China has the right to adopt any security measures, including air zones, while calling reports of plans for one over the South China Sea "speculation." Any move toward an ADIZ, which would follow the decision in January to require foreign fishing boats to seek permission before entering waters off Hainan, could raise the risk of confrontation between the air forces of China and the U.S.
Maritime Power
President Xi Jinping has sought to extend China's reach since coming to power in November 2012, with defense spending rising 12.2 percent this year. The Communist Party leadership has for the first time stated a national goal of making China a maritime power, with a more combat-ready military and long-range capacity to bolster its claims to a large part of the resource-rich South China Sea.
In an incident on Aug. 19, a Chinese fighter jet flew within 20 feet of a U.S. P-8 Poseidon submarine surveillance aircraft near Hainan, and rolled to expose its weapons to the pilot, Pentagon spokesman Rear Admiral John Kirby said. The U.S. plane was in international airspace and the maneuver was unsafe, Kirby said. China said its pilot acted professionally.
Within a week of that encounter, Taiwan sent fighter jets to tail two Chinese military planes it said entered the island's air space. The Chinese planes were on their way to the South China Sea, where China's territorial disputes with the Philippines and Vietnam have become heated this year.
"These kind of incidents will happen more frequently because China wants to change its passive image of the past over territorial issues," Kang Jun Young, a professor of Chinese studies at Seoul's Hankuk University of Foreign Studies, said by phone. "By raising tension and showing assertiveness, China is showing the world it is no longer the same country it used to be."
Timing, Means
Setting up an air defense zone near Hainan, which could require aircraft to file flight plans with Chinese authorities, would be a direct challenge to U.S. forces, which routinely conduct surveillance exercises in the area of the Yalong Bay Naval Base. The U.S. flew B-52 Bombers through China's East China Sea air zone days after it was announced. While Chinese jets patrol that area, they have not generally confronted other aircraft passing through the zone such as commercial flights.
"The key question is in the timing and means by which this is announced by China," said Andrew Scobell, a senior political scientist at RAND Corporation in Arlington, Virginia, referring to a potential partial South China Sea air zone. "Such an announcement would likely heighten alarm among Southeast Asian states and the U.S."
"It is not clear whether Beijing has learned the lessons of its earlier announcement of the East China Sea ADIZ," he said. Scobell said he expects China to establish a zone over some of the South China Sea in the near future.
More Complicated
China's navy is modernizing and expanding the base at Yalong Bay. The facility has two piers, each a kilometer (0.6 mile) long, to service surface ships. Four 230-meter piers accommodate submarines, along with an underwater tunnel, Felix Chang, a senior fellow at the Foreign Policy Research Institute in Philadelphia, has said.
The commander of the navy, Wu Shengli, said yesterday in the eastern port city of Qingdao that the navy will safeguard and expand China's maritime rights, according to a Xinhua report posted on the Defense Ministry website. Central Military Commission vice chairman Fan Changlong, attending the same forum to mark the 120th anniversary of the first Sino-Japanese War, said the army's combat capabilities should be "further liberalized and developed," the ministry said.
Core Support
Announcing an air zone across the entire South China Sea would be complicated as it would directly affect more countries in the area, according to retired Major General Xu Guangyu, a senior adviser at Beijing-based research group the China Arms Control and Disarmament Association. Countries such as the Philippines, Vietnam, Malaysia and Brunei also claim part of the waters, through which some of the world's busiest shipping lanes run.
"Beijing will exercise caution in launching a South China Sea ADIZ," he said. "But it will be a matter of time. China's air defense space won't be just confined to the East China Sea."
China has already extended its naval patrols to cover most of the South China Sea, according to the Beijing News.
"The military will provide core support to the sovereignty-safeguarding activities in the South China Sea," said retired Colonel Yue. "We'll see more warships, more submarines and airplanes in the area in the future."
'Risk Falling'
The most serious incident occurred in 2001, when a U.S. spy plane collided with a Chinese fighter jet and was forced to make an emergency landing on Hainan. The Chinese pilot was killed in the collision.
The U.S. practice of sending surveillance planes into the area won't stop because of the close encounter, Kirby said Aug. 26. The U.S. will continue to fly in international airspace and sail ships in international waters "the way we've been" doing.
As long as the U.S. continues to fly planes near China's naval base there'll be more close encounters, said Song Xiaojun, a Beijing-based military commentator for state television CCTV and co-author of the 2009 book "China is Unhappy."
"China will play along as long as the U.S. can't curb its voyeuristic curiosity. It's like climbing up a skyscraper and attempting to look at what's going on inside a room through the glass window -- you can do that, but you'd risk falling down," Song said.
Ship Encounters
The close encounters are not confined to the air. A U.S. missile cruiser had a confrontation with a Chinese naval vessel in the South China Sea in December, and Japanese and Chinese ships regularly tail one another around the East China Sea.
"But this doesn't mean China wants an actual conflict," said Kang from Hankuk University. "It's simply trying to send a message by scaring others, which still increases the odds of a miscalculation."
Before it's here, it's on the Bloomberg Terminal.
LEARN MORE