Bouygues First-Half Earnings Decline on Telecom Unit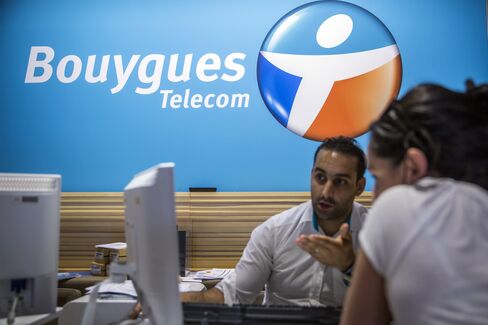 Bouygues SA, the French construction, telecommunications and media conglomerate, reduced its outlook for revenue this year after a price war in mobile-phone services pushed first-half earnings down 61 percent.
Operating profit before one-time items and restructuring costs dropped to 134 million euros ($177 million), the Paris-based company said in a statement. It now forecasts 2014 revenue to drop by 1 percent to 2 percent, instead of a previous prediction for sales to be "close to the 2013 level."
Bouygues, which maintained its prediction for a "robust" operating performance of construction businesses in 2014, is selling assets and cutting 1,500 jobs at its mobile-phone operations as a price war triggered by discount carrier Iliad SA continues and talks for tie-ups with rivals have failed.
"We're going to have a very reduced cost structure, maybe the most competitive of the market," Chief Executive Officer Martin Bouygues said at a press conference in Paris today. "The goal for 2016 is to see again significant growth" in Bouygues Telecom's earnings before interest, taxes, depreciation and amortization, which dropped 29 percent in the first half to 332 million euros.
Bouygues rose 0.1 percent to 28.48 euros in Paris, taking the advance to 3.9 percent this year and giving the company a market value of 9.56 billion euros.
Broadband Prices
Bouygues Telecom "will have all its chances to succeed" as the progressive end of Iliad's roaming agreement with Orange SA will re-establish a level playing field, the CEO said. Bouygues, which is cutting prices of its broadband offers, will introduce ultra-high-speed mobile services thanks to its spectrum that rivals "won't be able to match," he said.
In April, Vivendi SA snubbed Bouygues's offer to buy SFR, France's second-largest phone operator, agreeing instead to sell it to Altice SA in a deal valued at more than 17 billion euros.
Bouygues's net income more than doubled to 410 million euros in the first half as it sold minority stakes in the Cofiroute tollroad company and the Eurosport broadcasting operation, and benefited from litigation settlements.
"Although our operating performance reflects a more challenging economic and competitive environment in France, I believe that Bouygues has become stronger since the start of the year," the CEO said. Alstom, in which Bouygues has 29 percent, will benefit from the sale of most of its energy assets to General Electric Co., he said.
The operating margin of Bouygues's construction businesses, which was hurt in the first-half by tougher roadworks markets in France and the start of new contracts, will be similar to last year in the second half, the CEO said.