Apple Bets IPhone Magic Will Spill Over to Wearables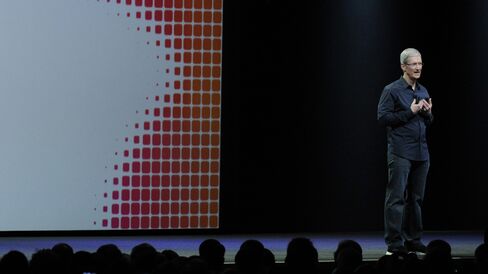 Apple Inc. is seldom first with new technologies, yet it's been able to create huge product categories. The company did that with iPods for the MP3 player market in 2001, iPhones for the smartphone industry in 2007 and iPads for tablets in 2010.
Now the Cupertino, California-based company will attempt to repeat that feat in wearables, an emerging group of devices that track people's activity and health. Apple will introduce a wearable gadget along with new iPhones on Sept. 9, a person with knowledge of the plans said. Notices for the event, which will also take place in Cupertino, were sent out yesterday.
Apple declined to comment beyond the e-mailed invitation, which said: "Wish we could say more."
While companies such as Fitbit Inc. and Jawbone have made some headway introducing wearables to the public, global sales of the activity trackers hit just 13.6 million units last year, according to researcher Parks Associates. That's about the number of iPhones Apple sells in a month, giving Chief Executive Officer Tim Cook room to boost the size of the market.
The new device also will give the clearest sign yet of where the company is headed without Steve Jobs at the helm. Cook, who took over almost three years ago to the day, has been under pressure to show that the company will continue to deliver breakthrough products.
"How he's perceived in the next few years will be decided in the next four months," said Gene Munster, an analyst at Piper Jaffray Cos., who has the equivalent of a buy rating on Apple's stock.
Small Impact
Apple will give the new wearable a boost by pairing its debut with its flagship product, the iPhone. The company also may be trying to manage expectations for the new device, signaling that it's more of an accessory instead of a category that stands by itself. By contrast, when the iPad was introduced in 2010, Apple held a special event just for that product.
A wearable device also isn't likely to make a big impact on Apple's balance sheet anytime soon. Katy Huberty, an analyst at Morgan Stanley, said in July that Apple may sell 30 million to 60 million wearables at an average price of $300, generating at least $9 billion in additional sales.
That would be have been a big boost for the company when the iPhone became available in 2007, when annual revenue was $24.6 billion. Now, analysts are predicting sales of $180.2 billion for the current fiscal year that ends next month. Apple has simply become too big for a new product like this to have a significant and immediate financial impact.
Major Milestone
Still, anticipation for the event has given Apple's shares a lift. Already the world's largest company by market value, Apple shares closed at a record yesterday of $102.25, up 28 percent this year.
For veteran Apple watchers, the company's decision to introduce the product at the Flint Center for the Performing Arts near its headquarters is a sign that the company sees this as major milestone.
The venue is the same spot where Jobs introduced the Macintosh computer in 1984 and then the colorful iMac, which spurred a revival of the company in the late 1990s that has lasted until now.
Before it's here, it's on the Bloomberg Terminal.
LEARN MORE