Abercrombie Shares Fall After Quarterly Sales Miss Estimates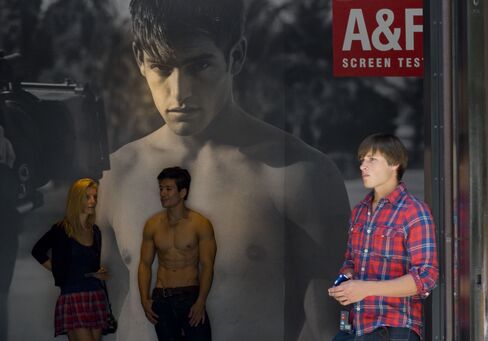 Abercrombie & Fitch Co., the apparel chain trying to rekindle its appeal among teens, fell the most in more than six months after second-quarter sales trailed analysts' estimates.
Revenue slid 5.8 percent to $890.6 million in the period, which ended Aug. 2, the New Albany, Ohio-based company said today in a statement. Analysts estimated $909.8 million, on average, according to data compiled by Bloomberg.
Chief Executive Officer Mike Jeffries is struggling to compete with fast-fashion companies such as Forever 21 and Hennes & Mauritz AB, which have won over teens with their ability to react to trends quickly. Slow mall traffic and an industrywide reliance on heavy discounting to entice customers also are hurting sales.
"Based on what we have seen and heard from other mall-based teen retailers, customer traffic continues to negatively weigh on business," Howard Tubin, a New York-based analyst, wrote in a note to clients before the results were released.
Abercrombie shares fell 4.8 percent to $41.87 at the close of trading in New York, the biggest decline since Feb. 3. The shares had gained 34 percent this year before today, lifted by Jeffries's comeback efforts.
Abercrombie's same-store sales -- a key measure of a retailer's health -- declined 7 percent last quarter, worse than the 4.1 percent drop estimated by Consensus Metrix. Comparable-store sales at the company's Hollister chain dropped 10 percent, almost twice the decline projected.
Jeffries said in today's statement that the company has been making strides in revamping its clothing and is seeing small signs of recovery.
"In a continued challenging environment, our sales for the second quarter were somewhat below plan, but we have seen modest improvement since the back-to-school floorset," he said.
Before it's here, it's on the Bloomberg Terminal.
LEARN MORE