Syria Airstrikes No Instant Fix Against Islamic State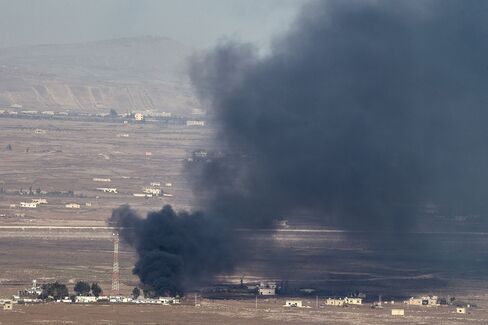 A year after he threatened attacks on Syrian forces loyal to President Bashar al-Assad, U.S. President Barack Obama is weighing airstrikes against Islamic State extremists in Syria that could benefit Assad.
That unwanted consequence is one of a number of concerns that are complicating U.S. planning for possible military action against the extremist group, which poses a growing threat to U.S. regional interests, Americans abroad and even the homeland.
Obama's national security advisers have been meeting this week to draft military options aimed at helping defeat what he this week called "these barbaric terrorists." The pace has picked up since the militants put out a video showing the beheading of American journalist James Foley, and increasingly members of Congress are seeking a vote on whether to authorize action against the group.
"Militarily, there is no short-term fix that will completely defeat this threat," said Janine Davidson, who was deputy assistant secretary of defense for plans from 2009 to 2012.
"It's really important to differentiate in our minds" between stopping IS's momentum and ending or defeating it as an organization, said Davidson, who is now senior fellow for defense policy at the Council on Foreign Relations in Washington. "Those are two very different things and take two different, but coordinated, strategies."
For the moment, the top priority should be to break the group's momentum, which would reduce its appeal to recruits and its immediate threat, while working with regional leaders on a strategy for longer-term actions, she said.
The challenges of a military operation are compounded by foreign policy concerns, from the likelihood of Russian opposition to doubts about support from Turkey.
War Drums
Public remarks by administration officials, including Obama, have created expectations for imminent American military action against the extremists in Syria. U.S. aircraft struck IS positions in neighboring Iraq again yesterday, bringing to 101 the number of airstrikes there since the campaign began Aug. 8.
Obama has authorized increased aerial surveillance of Syria, including manned and unmanned missions in Syrian airspace, to help military planners identify possible targets. The president has ruled out putting U.S. combat forces on the ground in Iraq or Syria. That, along with a desire to avoid civilian casualties, may mean that any airstrikes in Syria would be directed against targets in the open, such as training areas, convoys and military positions.
Urban Targets
"Then you don't need as much ground support," Davidson said. "If you're contemplating target sets that are increasingly more urban, airpower starts to have less of an effect."
The approaches the administration is debating this week, which two officials described as half-measures, run the risk of being enough to help Islamic State brand the conflict as one between believers and infidels, but not enough to annihilate the small corps of extremists. The officials asked to speak anonymously in order to discuss administration deliberations.
To some U.S. military leaders, one of the officials said, the approach is reminiscent of American failures in Lebanon, Somalia, Afghanistan, Iraq, and Libya, where applications of military power limited in both scope and time produced more costs than benefits for American security.
Even so, there are complications from the tactical --- such as how to avoid civilian casualties without spotters on the ground -- to the geopolitical, which includes Obama's oft-stated concern about the perils of being drawn into the Syrian civil war.
NATO Meeting
Obama and officials from the State and Defense departments and U.S. intelligence agencies have been in contact with their counterparts among U.S. allies to discuss the next phase in the effort to stem Islamic State's advances, White House press secretary Josh Earnest said yesterday. The IS threat also will be a topic when Obama and other leaders from the North Atlantic Treaty Organization meet in Wales next week, he said.
While seeking to build an anti-IS coalition, the U.S. can't count on much help from NATO ally Turkey, whose 560-mile (900-kilometer) border with Syria provides the major routes for radical foreign fighters.
The Ankara government is constrained because Islamic State forces in June abducted 49 people at the Turkish consulate in the northern Iraqi city of Mosul, as well as by its opposition to any action that may bolster the Assad regime, according to Nihat Ali Ozcan, an analyst at the Economic Policy Research Foundation in Ankara.
Turkish Base
"Even the use of Incirlik Air Base for airstrikes on IS targets in Syria is something Turkey may not agree to," Oytun Orhan, an analyst at the Center for Middle Eastern Strategic Studies, said in an interview in Ankara.
U.S. moves in Syria also may further complicate relations with Russia, Assad's key military supplier, amid the escalating dispute over Russia's involvement in Ukraine.
"Russia, however hypocritically given its actions in Ukraine, will strongly object to U.S. intervention in Syria," particularly without an authorization from the United Nations Security Council, according to analysis yesterday from the Soufan Group, a New York-based security consulting firm.
Still, after Foley's beheading sparked new calls for U.S. action from politicians and pundits, Obama is revisiting the question of whether to take military action in Syria, this time in a different context and against a different enemy.
Congressional Mood
Last August, similar crisis meetings were convened to draw up plans for missile strikes to punish Assad for using chemical weapons against his opponents. Obama backed down due to opposition in Congress, his own wariness about military involvement in the Syrian civil war and a Russia-brokered deal for Assad to give up his chemical weapons.
There are signs that this time Congress's mood may be different, given the level of concern that Islamic State or its followers will seek to conduct a terrorist attack in the U.S.
If Obama is "prepared to try to prevent that, I'm sure he will have a lot of congressional support," Senate Republican Leader Mitch McConnell of Kentucky told CNN yesterday. Lawmakers including Senators Tim Kaine, a Virginia Democrat, and Bob Corker, a Tennessee Republican, have called for Obama to seek congressional approval for a military campaign.
Assad's Offer
Assad's government this week offered cooperation against Islamic State, which has seized areas of northern and eastern Syria for its self-proclaimed caliphate, while also warning that unilateral U.S. airstrikes would be an act of aggression. U.S. officials deny any intention of cooperating with Assad, whose ouster Obama has sought for more than three years.
Concern about Islamic State "does not indicate a change in our view and concerns about the Assad regime and the horrific acts they've done against their own people," State Department spokeswoman Jen Psaki said on Aug. 26.
Still, "Assad and his minions" are fueling the idea of cooperation with Assad to drive a wedge between the U.S. and the Sunni Arab nations that the U.S. is seeking to rally against IS, said Fred Hof, who until last year served as Obama's ambassador-at-large on the Syria crisis.
"We've had to work overtime to convince Saudis that we'll remain opposed to Assad, that there's no plot, no fix," Hof, now a senior fellow at the Atlantic Council in Washington, said in an interview yesterday. He said that should include increasing help for what the Obama administration considers moderate rebel factions as evidence that the U.S. remains committed to Assad's ouster.
'Very Targeted'
The necessity of near-term airstrikes in Syria to prevent the further collapse of Iraq "might outweigh the potential of helping Assad and rival extremist groups," according to the Soufan Group report.
"To be effective, airstrikes will have to be very targeted, and that requires real-time intelligence and on-the-ground spotters" to avoid civilian casualties, the group said, expressing doubt that other Syrian rebel groups could perform that function. "Without eyes on the ground, airstrikes might prove to be too inaccurate, and therefore prove to be counterproductive," it cautioned.
Islamic State forces may be relatively easy to target in the Syrian city of Raqqah, which the group considers its capital, while "shifting lines and actors" elsewhere will require that airstrikes be "more targeted and less substantial," the Soufan Group said.
Small-Unit Tactics
IS already is adapting to the U.S. air campaign by reverting to terrorist and small-unit tactics, and that means ground troops will be necessary to stop the extremists' advance and reduce its recruiting appeal, then to defeat them in time, according to the two U.S. officials.
In planning for U.S. strikes a year ago, officials were concerned about Syria's extensive air-defense system.
Targeted strikes in the eastern and northern parts of Syria, Islamic State's stronghold, are a "very different" matter than around Damascus or on Assad's airfields, "which are more heavily defended by surface-to-air" weapons, said Davidson.
Obama is right to worry about a slippery slope because "the debate could eventually shift heavily in favor of ousting the Assad regime, and there are many actors inside Syria and in the region that have an interest in bringing Washington and Damascus into a direct military confrontation," Ramzy Mardini, a nonresident fellow at the Atlantic Council, said in an e-mail from Amman.