RBS Fined $24 Million by U.K. Regulator Over Mortgages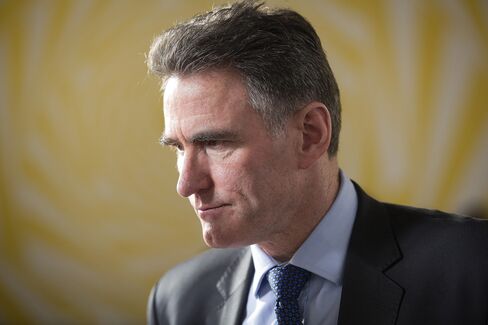 Royal Bank of Scotland Group Plc was fined 14.47 million pounds ($24 million) by the British markets regulator for giving clients poor advice on mortgages.
The Financial Conduct Authority faulted RBS for what it called "serious failings in their advised mortgage sales business" between June 2011 and March 2013, according to a statement by the London-based regulator today. RBS and its NatWest network "failed to ensure that advice given to customers was suitable," it said.
Chief Executive Officer Ross McEwan, 57, has been working to overhaul the 80 percent taxpayer-owned bank since he took over in October, cutting assets and jobs while tackling past regulatory missteps. RBS was fined $612 million for manipulating benchmark interest rates last year, in just one of past misconduct issues the bank has faced since its 45.5 billion-pound government bailout in 2008.
"This was unacceptable and should never have happened," McEwan said in a separate statement. "Today's notice shows that we still have challenges to face, but we are determined to take the steps needed to earn back customers' trust."
RBS shares were little changed at 366.50 pence at 12:12 p.m. in London. They are up 8.5 percent this year, making them the only major British bank to see gains in that period.
Financial Penalties
The bank, based in Edinburgh, imposed financial penalties on some senior executives following the FCA fine, said a person briefed on the matter who asked not to be identified because the details aren't public. The person declined to say if current or former managers were sanctioned.
RBS moved to claw back money paid to the firm's employees and cut bonuses for some executives after it was fined for manipulating the London interbank offered rate last year. Chairman Philip Hampton said at the time that "thousands" of employees, mostly at the investment bank, faced bonus cuts.
The lenders failed to consider the full extent of a customer's budget when making a recommendation for a mortgage, the FCA said today. The watchdog carried out two reviews of sales and found that in more than 50 percent of the cases the "suitability of advice was not clear."
Only two of the 164 sales reviewed were considered to meet the standard required in a sales process, the regulator said.
'Poor Advice'
"Poor advice could cost someone their home so it's vital that the advice process is fit for purpose," Tracey McDermott, director of enforcement and financial crime at the FCA, said in the statement. RBS and NatWest "failed to ensure that their customers were getting the best advice for them," she said.
RBS was first alerted to issues in its mortgage-advice process in November 2011 by the regulator, though it was almost a year later before the bank started to take steps to address the problem, according to the FCA statement.
"Where we raise concerns with firms we expect them to take effective action to resolve them without delay," McDermott said. "This simply failed to happen in this case."
RBS and NatWest have agreed to contact about 30,000 customers who received mortgage advice in that period in order to give them the opportunity to "raise any concerns they have about the advice they received," the FCA said. The lenders would have faced a fine of 20.7 million pounds had they failed to "settle at an early stage," according to the statement.
The bank has set aside 3.2 billion pounds to compensate customers who were wrongly sold loan insurance. It may also be part of a group of banks seeking to reach a settlement with the FCA over allegations of manipulation in the currency market, people with knowledge of the matter said last month.
The Wall Street Journal reported the penalties on senior executives earlier today.