PBOC Resolve Tested as Shadow Banking Industry Sours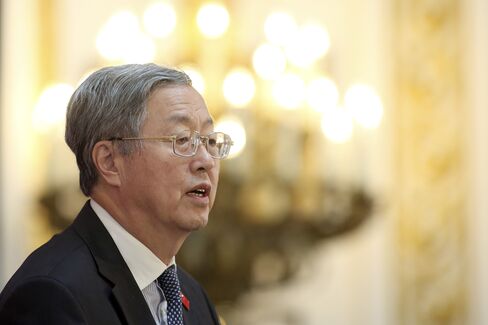 Rising stress in China's $6 trillion shadow banking industry is testing central bank Governor Zhou Xiaochuan's resolve to limit monetary easing as risks to the government's growth target climb.
In the past three months at least 10 trusts backed by assets spanning coal mines in Shanxi to forests in Fujian have struggled to meet payments, sparking protests by investors outside banks that distributed their products. A slump in new credit in July underscored strains on the industry that funded as much as half of China's recent growth, presenting Zhou with a choice: ease policy to avert a slowdown, or hold the line.
"The central bank faces a dilemma," said Ding Shuang, senior China economist with Citigroup Inc. in Hong Kong. "On one hand, it's part of the government and has to do what it can to aid growth; on the other, it knows better than any other government agency the danger of rising debt. It's a tricky balancing act."
At stake is Premier Li Keqiang's economic expansion target of about 7.5 percent this year. That's threatened by a slowdown in industrial production and investment growth, a slumping property market, and a pullback in manufacturing. Industrial profits climbed 13.5 percent in July from a year ago, down from June's 17.9 percent pace, government data showed today.
While the People's Bank of China hasn't changed its benchmark lending and deposit rates for the past two years, local media reported last month it had extended a 1 trillion yuan ($163 billion), three-year loan to a state development bank to support the funding of government-backed housing projects.
Targeted Easing
It recently granted a 20 billion yuan re-lending quota to some regional bank branches to support agriculture, according to a statement on its website yesterday. The PBOC will also cut interest rates on re-lending to some rural financial institutions in poor areas by 100 basis points, subject to banks meeting certain criteria, it said.
The PBOC has kept liquidity sufficient in the broader banking system, with the benchmark seven-day repurchase rate, a gauge of funding availability between banks, slipping to a two-month low of 3.29 percent on Aug. 26. The rate was 3.72 percent today, as initial public offerings and month-end demand reduced cash supply.
China's benchmark Shanghai Composite Index of stocks fell 0.4 percent at the 11:30 a.m. break, headed for the third decline in four days.
Debt Concerns
In Hong Kong, Chinese property developer Country Garden Holdings Co. fell the most in three months after announcing a rights offering to raise HK$3.18 billion ($410 million) to refinance debt, underscoring concerns over liquidity among real-estate companies amid the slowing housing market.
Economists are forecasting steady benchmark rates and a half percentage point cut to reserve requirements for the biggest banks this year, according to median estimates in a Bloomberg survey of economists this month.
Further targeted easing, where cheaper credit is provided to designated banks to lend for specific purposes, is the most likely monetary response, said Guan Qingyou, chief economist with Minsheng Securities in Beijing.
"Governor Zhou is a determined reformer," Guan said. "While some local governments and state enterprises may be crying for cheap money, Zhou has the courage and political standing to say no. He knows clearly that a massive easing will lead to nothing but more serious overcapacity and debt problems."
Local-currency bank loans' share of aggregate financing -- which includes bank lending, off-balance sheet loans, and bond and stock sales -- fell from 70 percent in 2008 to 51 percent in 2012 as shadow banking surged along with government-led efforts to stimulate the economy.
Debt Ratio
In the first seven months of 2014, the share of bank loans recovered to 56.7 percent, according to calculations based on PBOC data. In July, bank loans exceeded aggregate financing as other forms of credit shrank.
China's debt-to-gross-domestic-product ratio was about 250 percent at the end of June, up from about 150 percent before the government rolled out its stimulus campaign in 2008, according to research by economists at Standard Chartered Plc.
In an Aug. 13 statement issued after data showed July's slump in new lending, the PBOC said the decline in non-bank credit was partly due to "enhanced regulation."
"There will be short-term contraction of related businesses, but in the long-term it's helpful to prevent systematic and regional financial risks," the central bank said. It said financial institutions are stepping up risk controls over trust-related deals after default risks emerged from some individual trust investment plans.
Objectives Conflict
"The PBOC is walking on a very thin line," said Ha Jiming, chief investment strategist of Private Wealth Management China at Goldman Sachs Group Inc. in Hong Kong. "When there's a conflict between long-term and short-term objectives, they will choose the short term because growth is paramount."
China's real interest rate is too high to support a meaningful growth pickup, said Chang Jian, chief China economist at Barclays Plc in Hong Kong. The level of 3.7 percent -- calculated by subtracting the year-on-year inflation rate of 2.3 percent from the 6 percent one-year benchmark lending rate -- climbed to a three-month high in July.
"What the central bank has done isn't enough to sustain growth momentum in the second half," she said. "If it's serious about the growth target, it has to cut the interest rate sooner or later."
Escalating Defaults
Shadow-banking assets jumped more than 30 percent in 2013 to 38.8 trillion yuan, according to Barclays estimates.
Trust defaults have escalated in recent months as the economy's momentum stalled. At least 15 trust products have been reported to have repayment difficulties this year, according to UBS AG, citing media accounts and company disclosures. Local governments are working to avoid defaults, brokering deals between corporates and banks and leaning on lenders to provide bridge loans or take over shadow credit, Wang Tao, chief China economist at UBS, wrote in a July 10 note.
China Credit Trust Co. last month delayed payments on a 1.3 billion-yuan high-yield trust product backed by coal-mining assets in Shanxi after the borrower failed to raise funds to repay investors, according to a company statement. That triggered protests outside the Shanghai branch of the Industrial & Commercial Bank of China Ltd., which sold the product, according to local media reports.
Struggling Trusts
Shaanxi International Trust Co. said in a statement to the stock exchange in June that it had to use its own funds, 210 million yuan, to pay investors as the borrower, a tree-planting company in Fujian province, failed to honor the debt.
"This year and next will be a time of reckoning for many trusts," said Min Qinghua, an analyst with Use Trust, a consultancy specializing in the industry based in Nanchang, Jiangxi province. "Trusts tied to the real-estate and mining industries in particular will struggle."
Min expects defaults in the trust industry will climb to about 0.5 percent of outstanding debt, from virtually zero now.
While that's lower than the overall banking system's bad loan ratio, "it's bad enough," she said. "Trust investment as a financing channel will continue to shrink and that's set to hurt economic growth on the ground."
— With assistance by Xin Zhou
Before it's here, it's on the Bloomberg Terminal.
LEARN MORE