Kuroda's Stimulus Hints Reflect Slowing Inflation: Japan Credit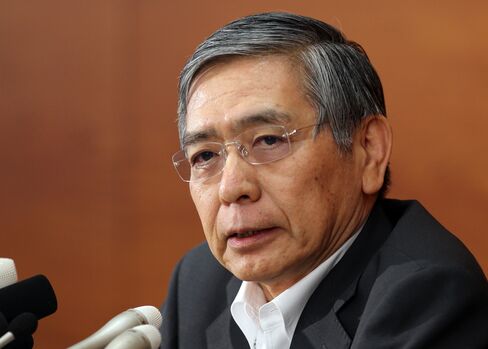 Bank of Japan Governor Haruhiko Kuroda told counterparts in Jackson Hole, Wyoming that he may ramp up stimulus if inflation softens. Fixed-income markets suggest he won't have to wait long for the evidence he needs.
Japan's five-year, zero-coupon inflation swaps dropped to 1.25 percent today, the lowest since Feb. 6 and down from this year's high of 1.42 in April, according to Meitan Tradition data. The equivalent U.S. contracts, which allow investors to exchange floating payments tied to the consumer-price index with a fixed rate, were at 2.21 percent.
Boosting the unprecedented stimulus would help the world's third-largest economy withstand a two-step sales tax increase, the first portion of which in April triggered the sharpest contraction in gross domestic product since March 2011. A report due tomorrow will probably show inflation is slowing, as the impact of the BOJ's easing and higher levies fades, supporting a bond rally that pushed benchmark yields to a 16-month low.
"The BOJ will possibly roll out additional stimulus at the end of October," said Makoto Suzuki, a senior bond strategist in Tokyo at Okasan Securities Group Inc., one of the 23 primary dealers obliged to bid at government bond auctions. "There are concerns the economic recovery after the sales tax increase has been sluggish. Yields are likely to fall further toward the end of September."
Inflation Slowing
Consumer prices probably increased 3.4 percent in July from a year ago, moderating from a 3.6 percent gain the previous month, according to the median estimate of economists surveyed by Bloomberg News before the statistics bureau report tomorrow. Price growth excluding fresh food stalled at 3.3 percent, the forecast shows.
"We will continue our current monetary policy, but if there's anything which could derail our course toward the 2 percent inflation target, we will not hesitate to change or adjust our policy," Kuroda said in Jackson Hole on Aug. 22.
The BOJ estimated in its semi-annual report in April that core prices will rise 2.6 percent in the 12 months starting April 2015, or 1.9 percent excluding the effects of the consumption tax increase. The central bank will release its latest outlook on Oct. 31.
"Governor Kuroda has not swayed from his confident stance on the economy and inflation," said Daisuke Uno, the Tokyo-based chief strategist at Sumitomo Mitsui Banking Corp., another primary dealer. "But when we discount the effects of the sale tax increase on CPI, the data is clearly diverging from the BOJ's forecasts. The bond market is skeptical of the BOJ's optimistic outlook."
Growing Skepticism
Japan's two-year inflation swap fell to 1.72 percent, the lowest since December 27. They were as high as 2.52 percent in May, Bloomberg-compiled data show.
"The BOJ's goal was to reach 2 percent inflation by the middle of next year, but that's looking increasingly difficult," Fumio Nakakubo, regional chief investment officer Japan of wealth management at UBS AG in Tokyo, said at a press briefing on Aug. 26. "The biggest driver of price gains had been the yen's depreciation, so as that impact fades after a year, the inflation rate is likely to fall further."
The yen plunged 18 percent last year, the biggest annual drop since 1979, helping boost inflation through higher import costs. It traded at 103.76 per dollar as of 3:50 a.m. in Tokyo, up 1.5 percent since Dec. 31.
Stimulus Expectations
Half of the 34 economists polled by Bloomberg expect the central bank to bolster record stimulus by the end of February 2015, according to a survey conducted from July 30 to Aug. 1.
The yield on Japan's 10-year benchmark bonds is approaching the record low of 0.315 percent reached on April 5, 2013, the day after the BOJ unveiled its plan to buy about 7 trillion yen of JGBs a month. The rate dropped to 0.485 percent, the lowest since April 2013.
"Flooding liquidity in the market only creates a JGB bubble," Takeshi Fujimaki, a former adviser to billionaire investor George Soros who now holds a seat in Japan's upper house of parliament, said in a seminar in Tokyo on Aug. 25. "The BOJ will be forced to roll out a second round of quantitative easing at the end of this year."
*T *T