The Underwhelming Case Against the IMF's Christine Lagarde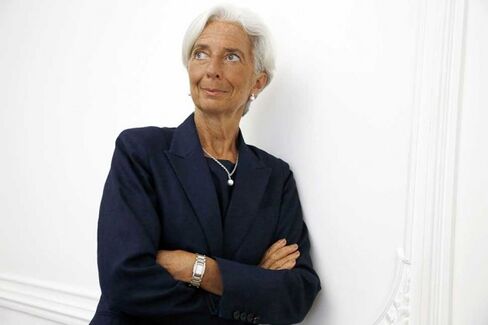 It sounds ominous: International Monetary Fund chief Christine Lagarde was placed under formal investigation by a French court on Aug. 27 for having approved a payout to a corruption-tainted business tycoon when she was France's finance minister.
On closer inspection, the case against Lagarde is underwhelming. She's being investigated for negligence in the use of public funds, a rarely used charge brought in cases in which evidence suggests that the defendant did not "willingly participate in activities to defraud the state," Stéphane Bonifassi, a Paris lawyer who is not involved in the case, told Bloomberg News. If convicted, Lagarde faces a maximum penalty of one year in prison and a €15,000 ($20,000) fine.
In short, Lagarde might go to jail for making an ill-considered decision that cost taxpayers a chunk of money—something government officials around the world do regularly, without facing criminal prosecution. What's more, the French court hasn't even decided whether she should be placed on trial. That decision may not be made "for a fairly long time," Bonifassi says. "An investigation in the French system can go on and on."
Lagarde called the court's action "totally without merit" and said she has no plans to step down. She said she would convene a meeting of the IMF board to discuss the situation.
A lawyer by training, Lagarde sounded exasperated by the inquiry, which began before her IMF appointment in 2011 and has entailed at least four interrogation sessions and a search of her Paris apartment. "After three years of procedure, the sole surviving allegation is that through inadvertence or inattention I may have failed to intervene to block the arbitration that brought to an end the longstanding Tapie litigation," she said in a statement.
The case involves Lagarde's agreement to let an arbitration panel settle a dispute between a formerly state-owned bank and Bernard Tapie, a businessman with a history of legal troubles. The panel recommended a payment of roughly $500 million to Tapie, which Lagarde approved in 2008. Lagarde says she believed the deal was in the government's best interests. Investigators have said that Tapie had an undisclosed business relationship with the arbitration panel's chairman. They're also looking at whether Tapie, in exchange for the money, might have thrown his political support behind then-President Nicolas Sarkozy, in whose cabinet Lagarde served.
Stéphane Richard, then Lagarde's chief of staff and now chief executive of French telecommunications group Orange, was previously placed under investigation in the case. Orange's board doesn't seem overly perturbed: It has kept Richard at the helm of the company and recently offered him a new term.
The IMF board may do likewise. Lagarde took the top job at the fund after its previous head, Dominique Strauss-Kahn, resigned in a scandal over an alleged sexual assault on a hotel maid. (Criminal charges against Strauss-Kahn were later dropped, and he privately settled a lawsuit by the maid.) Against that backdrop, the pursuit of Lagarde in the Tapie case looks more like nitpicking.
Before it's here, it's on the Bloomberg Terminal.
LEARN MORE