Hutchin Hill, Citadel See Assets Jump as Pensions Call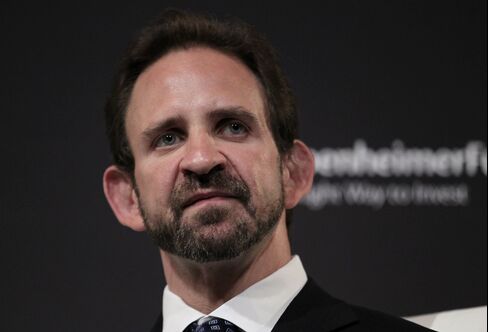 Neil Chriss is hitting his stride.
The math doctorate turned hedge-fund manager founded Hutchin Hill Capital LP more than six years ago and built it to cater to large investors. After posting annualized returns of 12 percent, about six times the average of his peers, he finds himself in the sweet spot for fundraising. Hutchin Hill's multistrategy approach is the most popular hedge fund style this year, helping the New York-based firm double assets by attracting $1.2 billion.
Chriss, 47, is one of the prime beneficiaries as investors are on track to hand over the most cash to hedge funds since 2007, driven by a search for steady returns and protection from market declines. The biggest firms, such as Citadel LLC, Och-Ziff Capital Management Group LLC and Millennium Management LLC are bringing in the biggest chunks of money, yet a select group of smaller firms like Hutchin Hill have collected more than $1 billion each.
"There are huge sums of money being put to work," said Adam Blitz, chief executive officer at Evanston Capital Management LLC, an Evanston, Illinois-based firm that farms out $5 billion to hedge funds. "You are getting some big checks coming into a fairly small universe of brand-name managers who want to grow and are on the approved list of hedge-fund consultants."
Hedge funds attracted a net $57 billion in the first half of this year, compared with $63.7 billion for all of 2013, according to Hedge Fund Research Inc. Ten firms, including Hutchin Hill, gathered about a third of that amount, investors in the funds said.
Assets Swell
Industry assets have swelled to a record $2.8 trillion even though funds, on average, have posted 7 percent annualized returns since the financial crisis, compared with 12 percent over the previous 18 years, according to the Chicago-based research firm.
Inflows are coming from pension plans, sovereign wealth funds and high-net worth investors. Some of the institutions, such as the Hong Kong Jockey Club, are making direct investments in hedge funds for the first time, rather than going through funds of funds. The club, which controls horse-racing in the city, said in April it gave money to Och-Ziff and Millennium.
Multistrategy Popularity
Multistrategy firms, which use a range of tactics to invest across asset classes are the most popular this year after collecting a net $29.5 billion, according to Hedge Fund Research. The funds returned 4.4 percent through July 31, compared with 2.5 percent for hedge funds overall.
"Pension funds see multistrategy hedge funds as a one-size-fits-all investment," said Brad Balter, head of Boston-based Balter Capital Management LLC. "It's very difficult right now to identify attractive opportunities, so they are letting the manager make the tactical decisions rather than wait for their own investment committees to re-allocate capital."
Hutchin Hill, which employs more than 60 investment professionals, uses five main strategies, including equities, credit and one that makes trading decisions based on quantitative models.
Chriss's goal is to provide better and more consistent returns than he might using just one approach. His background is in computers and math: He taught himself to program at age 11 and sold a video game to a software company when he was a high-school sophomore.
Lured Away
After obtaining his Ph.D. from the University of Chicago, he was lured away from a teaching job at Harvard University in 1997 to go to Wall Street. He set up his firm in 2007 after working for Steve Cohen's SAC Capital Advisors LP with early backing from Renaissance Technologies LLC founder Jim Simons.
Hutchin Hill has gained 8 percent this year, according to a person with knowledge of the performance, who asked not to be identified because the results are private.
While firms like Hutchin Hill are beginning to climb the ranks of multibillion-dollar managers, the domination of the biggest funds in raising assets hasn't slowed, even when they report bad news or post mediocre returns.
Och-Ziff, the biggest U.S. publicly traded hedge-fund firm with $45.7 billion under management, pulled in a net $3 billion into its hedge funds this year, even as it warned shareholders that the Securities and Exchange Commission and the U.S. Department of Justice were investigating the firm for investments in a number of companies in Africa. Its main fund returned 2 percent in the first seven months of the year, less than half the average of multistrategy funds tracked by Bloomberg.
Sovereign Wealth
Chicago-based Citadel, run by billionaire Ken Griffin, helped spark a backlash against multistrategy funds after it lost 55 percent in 2008, one of the worst hedge fund declines stemming from the financial crisis. Six years later, its $22 billion in assets have surpassed its previous peak in 2008.
Its main hedge fund, which is up 9.9 percent this year, has pulled in a net $1.2 billion in 2014, even though it's limiting inflows primarily to sovereign wealth funds, according to an investor. The firm's Global Fixed Income fund, run by Derek Kaufman, attracted $2.7 billion.
Millennium, founded by Israel "Izzy" Englander, has collected a net $2.6 billion this year, after only taking in enough money to replace client withdrawals in 2013. The New York-based firm, which manages $23.5 billion, decided to raise money again because it's adding more teams to the 150 that currently work at the firm. The fund has climbed about 4.2 percent this year and has posted an annualized return of 14.6 percent since January 1990, said investors, who asked not to be named because the fund is private.
Balyasny Assets
The popularity of the multimanager, multistrategy approach that Millennium helped pioneer a quarter-century ago has been a boon to some smaller managers. Dmitry Balyasny's Chicago-based Balyasny Asset Management LP attracted $1.5 billion this year, bringing total assets to $5.9 billion, while Jacob Gottlieb's New York-based Visium Asset Management LP pulled in $700 million into its multistrategy fund this year, after raising $1 billion in 2013.
Event-driven funds, which include managers who take activist roles at the companies in which they invest, continue to attract investors this year as the strategy gained 6 percent through July.
Loeb, Solus
P. Schoenfeld Asset Management LP climbed to $4.1 billion in assets as clients invested a net $1 billion and Solus Alternative Asset Management LP attracted $1.25 billion. Dan Loeb's $15 billion Third Point LLC, which is known for taking activist positions, had been closed to new investments since 2011 and returned capital last year. It recently told investors it would open Oct. 1 for a limited amount of capital that clients expect will be about $2 billion, they said.
A few start ups have also received a billion dollars or more this year, in part because they are coming out of firms with strong track records that are closed to new investments. Herb Wagner, who started FinePoint Capital LP this year and raised $2 billion, was a co-portfolio manager at Baupost Group LLC, the Boston-based firm run by Seth Klarman. Matthew Sidman opened Three Bays Capital LP, another Boston firm, in January and is now managing $1.2 billion. He worked at Jonathon Jacobson's Highfields Capital Management LP for 14 years.
Spokesmen for all the firms declined to comment on inflows and performance.
Big Money Raisers 2014

Firm          PM                 Net           AUM
                               Inflows

Citadel       Ken Griffin       $3.9 bln     $22.0 bln
Och-Ziff      Dan Och           $3.0 bln     $45.7 bln
Millennium    Israel Englander  $2.6 bln     $23.5 bln
FinePoint     Herb Wagner       $2.0 bln     $ 2.0 bln
Balyasny      Dmitry Balyasny   $1.5 bln     $ 5.9 bln
Solus         Chris Pucillo     $1.25 bln    $ 4.6 bln
Hutchin Hill  Neil Chriss       $1.2 bln     $ 2.5 bln
Three Bays    Matthew Sidman    $1.2 Bln     $ 1.2 bln
Passport      John Burbank      $1.0 bln     $ 3.9 bln
P. Schoenfeld Peter Schoenfeld  $1.0 bln     $ 4.1 bln