Hollande Turns to Deal-Maker Macron to Foil Party Rebels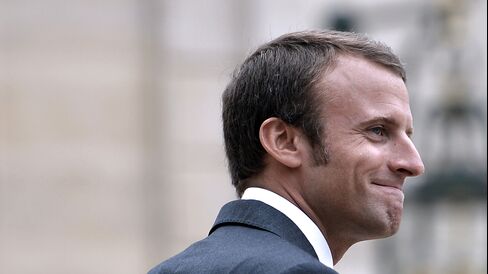 Aug. 28 (Bloomberg) -- In January 2012, as polls showed the French presidential race too close to call, Emmanuel Macron was leading a double life.
By day, Macron, just turned 34 and on a high six-figure salary at Rothschild & Cie, was working with a pool of bankers to advise Nestle SA on what became an $11.9 billion purchase of Pfizer Inc.'s Wyeth infant nutrition business.
By night, he worked as an unpaid adviser to the Socialist candidate, Francois Hollande, writing the future president's economic platform pledging to eliminate the deficit by 2017.
Macron's background and closeness to Hollande explain his appointment to the cabinet yesterday as France's economy and industry minister in place of Arnaud Montebourg. They also show his distance from rank-and-file members of Hollande's Socialist Party and their competing visions of France's economic future.
"He knows how to network and he is totally anchored in the real world," Jacques Attali, an adviser to the late Socialist President Francois Mitterrand and a political mentor to Macron, said in a telephone interview.
Hollande turned to Macron, now 36, as the star turn of Prime Minister Manuel Valls's cabinet after seeing off a revolt over the government's economic program by ministers led by Montebourg. Attali met with Hollande at the Elysee a couple of hours before the president called Macron to offer him the job.
France's new economy minister is everything his predecessor was not: softly spoken, pro-market and in step with Hollande. What he and Montebourg share is ambition.
Reputation 'Exaggerated'
Where Montebourg once compared himself to the 17th century figure Jean-Baptiste Colbert, Louis XIV's finance minister, Macron apologized yesterday for his "exaggerated reputation" for free-market thinking before starting the new portfolio.
"This young man is Hollande's surprise to erase Montebourg and protect the economic orthodoxy," Bruno Cautres, a political analyst at Cevipof, a Paris-based research center, said in an interview. "But he's not easy to read. To be one of the youngest economy ministers in French history shows that he is very, very ambitious, just like his predecessor was."
The ex-partner at Rothschild has a track record of deal making in government. Appointed the president's chief economic adviser after Hollande defeated Nicolas Sarkozy in May 2012, he was present at all the major corporate transactions involving the French state.
GE Meetings
When Hollande was negotiating the fate of Alstom SA's energy business with General Electric's CEO Jeffrey Immelt, Macron was writing him notes and offering advice, according to a person present who asked not to be named discussing confidential business matters.
He sought to temper government action when Montebourg called for the French state to take control of ArcelorMittal's Florange steel factory, and was key to the talks that led to the sale of Vivendi's SFR mobile unit business, the person said.
Macron, who ranked in the top five of his class at the elite Ecole Nationale d'Administration, is credited with two major reductions in payroll charges for businesses: one funded by a sales-tax increase and the other supported by a plan to cut public spending by 50 billion euros ($66 billion) over the coming three years.
That put him at odds with Montebourg, who was fired for rebelling against Hollande's deficit-cutting plan. Many economists welcomed his appointment, saying it confirmed the president's commitment to fix the French economy and restrain the deficit.
Reform Architect
Gilles Moec, chief European economist at Deutsche Bank AG, praised Macron as "the engineer of supply-side reforms," while Apolline Menut and Fabrice Montagne of Barclays Plc said that he was "the main architect of the important reforms passed in the first two years of Hollande's mandate."
Some of the 100 or so Socialist lawmakers who oppose their own government's economic policies have a similar perception, leaving them to regret the appointment.
"Replacing Montebourg with Macron the liberal is a ludicrous provocation," Socialist deputy Laurent Baumel said in an interview. "Montebourg embodied the French idea of economic intervention that defines the policy of the left. Emmanuel Macron is the symbol of Hollande's conversion to free market policies -- the idea that we'll reduce unemployment by lowering labor costs, supply-side economics."
Trained Pianist
A prize-winning pianist married to a woman 20 years his senior, Macron rose rapidly through France's administration after graduating from ENA. While working at his first job at the Finance Ministry, at the age of 30, he joined a government commission to free up the economy, advocating the scrapping of a French Socialist icon, the 35-hour work week law.
Such views are already stirring up controversy. Le Point magazine published an interview today in which Macron critized the law, saying France needs to get out of the "trap" of excessive workers' rights that make it harder for people to escape unemployment.
"It's difficult to explain and to defend, especially when you're on the left," he said in the interview, which was given before he was named minister. Within hours of the interview's release, the prime minister said today that the government won't be adopting Macron's views on the subject.
Jacques Attali led the economic commission that set Macron apart. Recognizing Macron's talents, Attali introduced him to Hollande and to Nestle CEO Peter Brabeck.
Long Haul
It didn't prevent Macron from failing at his first attempt to gain a local mandate in his native Somme region of northern France.
"The road is long," said Attali. "He wants to get elected. One day he'll be presidential candidate."
As presidential adviser, Macron had several mobile phones to keep in touch with his contacts. It was his address book that got him into banking, and it kept him informed in his top floor office at the Elysee.
"I have a vision of my country and I cannot sit and watch things pass by," Macron said in March 2012, when still working on Hollande's campaign. "I want to be part of the change."
To contact the reporters on this story: Helene Fouquet in Paris at hfouquet1@bloomberg.net; Mark Deen in Paris at markdeen@bloomberg.net
To contact the editors responsible for this story: Alan Crawford at acrawford6@bloomberg.net Ben Holland