Hatzius Sees Little Pent-Up U.S. Wage Deflation Yellen Cited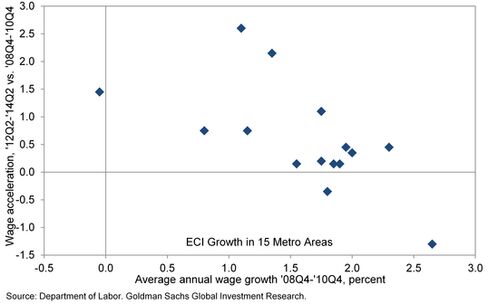 Aug. 27 (Bloomberg) -- There is little evidence that the U.S. is in the midst of a wage dynamic that Federal Reserve Chair Janet Yellen highlighted last week as a possible reason behind the slow increase in earnings, said Jan Hatzius, chief economist at Goldman Sachs Group Inc. in New York.
The thesis, dubbed "pent-up wage deflation" by researchers at the San Francisco Fed, holds that wages didn't fall enough during the past recession because employers refrained from cutting pay in order to maintain employee morale. As a result, management now may not have to offer increases to attract workers as the job market improves, according to San Francisco Fed economists Mary Daly and Bart Hobijn.
Yellen, speaking last week at the Fed's annual symposium in Jackson Hole, Wyoming, said the theory is among reasons to be wary of the proposition that low-wage growth was evidence the labor market was weaker than indicated by the drop in unemployment. The discussion is at the center of the debate at the central bank about when to reduce monetary stimulus and raise interest rates to prevent inflation from flaring.
The economists at Goldman Sachs tested the theory by using regional and industry data from the Labor Department's employment cost index. Hatzius found that the relationship was actually the opposite of what the hypothesis predicted, with those areas having below-average wage growth during the recession now showing above-average acceleration.
Employment Slack
"Our preliminary takeaway is that the pent-up wage deflation hypothesis is not a good reason to abandon our view that the continued weakness of wages signals continued labor market slack," Hatzius wrote in an Aug. 26 research note.
The Goldman Sachs economist used the ECI index because it is a "less noisy" measure than other gauges such as the average hourly earnings data from the Labor Department's monthly employment report.
Economists at Goldman project the central bank will first raise its benchmark interest rate in the third quarter of 2015, the same as the median forecast of economists surveyed by Bloomberg earlier this month.
Hatzius wrote that the results "are hardly the last word on pent-up wage deflation," and cited the possibility that statistical noise is also affecting the ECI. He also said the firms subject to the rigidities that prevented wages from dropping could have been more evenly spread between regions and industries than Goldman research assumed.
To contact the reporter on this story: Carlos Torres in Washington at ctorres2@bloomberg.net
To contact the editors responsible for this story: Carlos Torres at ctorres2@bloomberg.net; Vince Golle at vgolle@bloomberg.net; Chris Wellisz at cwellisz@bloomberg.net Vince Golle, Chris Wellisz