Country Garden Drops Most in Four Months on Rights Offer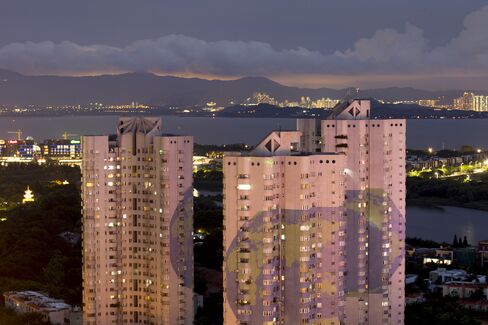 Country Garden Holdings Co., controlled by China's richest woman Yang Huiyan, fell the most in four months in Hong Kong trading on a plan to sell new shares, underscoring liquidity concerns at Chinese developers amid a slowing housing market.
Shares of Country Garden, based in based in Foshan, Guangdong province, fell 5 percent, the most since April 15, to close at HK$3.44. The offering is priced at about a 31 percent discount to yesterday's closing price of HK$3.62 a share.
Country Garden's rights offer comes as Chinese developers face difficulties in meeting their sales targets after sluggish sales and an oversupply in second- and third-tier cities drove prices lower. The company said yesterday it plans to raise HK$3.18 billion ($410 million) in a discounted share sale to refinance debt, including notes maturing next month.
"The rights issue sends a negative message to the market about poor cash and cost management," BNP Paribas SA analysts Ronney Cheung and Wee Liat Lee said in a note today.
Country Garden will offer investors one new share for every 15 held, or about 1.27 billion new shares, at HK$2.50 each, according to a Hong Kong stock exchange filing yesterday. Country Garden said it doesn't need shareholders approval to go ahead with the rights offer.
Raising Funds
Goldman Sachs Group Inc. and JPMorgan Chase & Co., which are underwriting the share sale, will loan $400 million to the company to cover the gap between the Sept. 10 maturity of $375 million of 11.75 percent senior notes and Oct. 16, when Country Garden said it expects to receive the rights-offer proceeds.
Country Garden said it plans to repay the bridge loan immediately on receiving the funds from the stock sale.
The developer's shares have declined 27 percent this year and are trading at a price-to-earnings ratio of 5.2 times, according to data compiled by Bloomberg. The benchmark Hang Seng Index is up 6.2 percent this year and fell 0.7 percent today.
Country Garden's 2019 bonds denominated in the U.S. currency had fallen 0.74 cents on the dollar to 104.28 as of yesterday from 105.02 on July 28, their highest since issuance in May, according to data compiled by Bloomberg.
China's new-home prices in July fell in almost all of the 70 cities tracked by the government, the most since 2011, according to the National Bureau of Statistics. Developers have had to cut prices to lure buyers, hurting their profit margins.
Selling Assets
As prices drop, developers including Shui On Land Ltd. and China Vanke Co. are selling assets. Shui On said yesterday it is selling two hotels in Shanghai for as much as 1.57 billion yuan ($256 million) as it seeks to cut debt and focus on property development. Vanke, the nation's biggest developer by sales, said today it may sell some commercial properties to a venture with Carlyle Group LP to "focus on operations" and reduce its reliance on equity financing.
Shimao Property Holdings Ltd., a Hong Kong-based developer with 50 projects under development in China, may miss its full-year sales target of 80 billion yuan as sales and margins decline, Barclays Plc analysts led by Alvin Wong said in a note yesterday. Guangzhou R&F Properties Co. said this week its first-half profit fell 26 percent from a year earlier.
(Earlier versions of this story was corrected to say 5.1 times in third paragraph under Raising Funds subheadline and Shimao Property Holdings Ltd. in the last paragraph.)
Before it's here, it's on the Bloomberg Terminal.
LEARN MORE