Abdullah Boycotts Afghanistan Vote Review Amid Crisis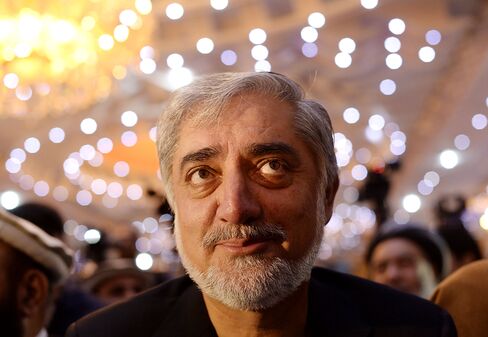 Afghan presidential candidate Abdullah Abdullah boycotted the results of a United Nations-backed vote audit, jeopardizing a power-sharing deal brokered by U.S. Secretary of State John Kerry last month.
Abdullah's campaign said the United Nations failed to adhere to its requests on how fraudulent votes in the June 14 election should be invalidated, Sayed Fazel Sancharaki, a spokesman for Abdullah, said by phone. Abdullah will rejoin the process if an agreement with the UN is reached, he said.
"If we don't reach an agreement, here we end the process of the election," Sancharaki said.
Abdullah's move threatens to trigger unrest in Asia's poorest country and further delay the signing of a security pact to keep U.S. troops in Afghanistan beyond this year. At stake is billions of dollars to fight Taliban insurgents who want to retake power when the U.S. pulls out.
The vote invalidation process was halted for a time because Abdullah's election observers weren't present at the Independent Election Commission of Afghanistan's office, IEC spokesman Noor Mohammad Noor said by phone.
The process later resumed and "will now proceed to its conclusion without the direct engagement of representatives of either presidential candidate in the physical audit," Nicholas Haysom, the UN secretary-general's special representative to Afghanistan, said in an e-mailed statement from the world body.
The election commission has less than a week to finish deciding on the validity of 8 million votes before a new president is set to be inaugurated on Sept. 2.
'Credible Audit'
The U.S. wants a new Afghan president in place before the North Atlantic Treaty Organization's summit in Wales on Sept. 4-5. That would enable the next leader to request funds for Afghan security forces.
"The United Nations today pledged to redouble its support to Afghan electoral authorities in order for the expeditious completion of a thorough and credible audit of the presidential run-off elections of 14 June," the UN said in the statement.
Ghani's camp is discussing the matter and will respond later, spokesman Faizullah Zaki said by phone.
More than 70 percent of about 23,000 ballot boxes have undergone audits, the UN said Aug. 25. The IEC is deciding on the validity of some 8 million ballots cast, it said.
While Afghan President Hamid Karzai has refused to sign an agreement to keep U.S. and allied troops, both Ghani and Abdullah have said they would do so. Foreign grants pay for about 50 percent of the Afghan government's expenditures, according to World Bank estimates.
Power-Sharing Agreement
Under the power-sharing agreement, the losing candidate would become chief executive officer, a new position that would report to the president. The CEO's role eventually would become executive prime minister after constitutional changes are approved.
Obama plans to reduce U.S. forces in Afghanistan to 9,800 by the end of this year, with only a small force at the embassy by the end of 2016, when he will be preparing to leave office. Thirteen years of the U.S. fighting the Taliban in Afghanistan has cost 2,342 American lives, as of Aug. 25, according to data compiled by Bloomberg.
Before it's here, it's on the Bloomberg Terminal.
LEARN MORE