South Africa Avoids Recession as GDP Expands 0.6% in Quarter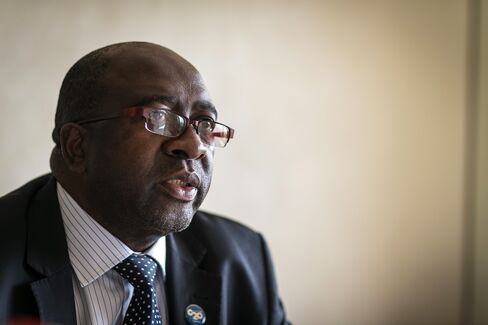 South Africa's economy avoided its second recession in five years, expanding an annualized 0.6 percent in the three months through June.
Gross domestic product rose after contracting 0.6 percent in the first quarter, the statistics office said in a report released today in the capital, Pretoria. The median estimate of 23 economists in a Bloomberg survey was 0.9 percent.
Africa's second-largest economy rebounded from a slump in the first quarter that was caused by a five-month strike at the world's largest platinum producers. The economy remains under pressure, with Finance Minister Nhlanhla Nene saying yesterday he will probably cut the government's growth projection for this year to 1.8 percent from 2.7 percent estimated in February.
"The second half of the year should look better than the first half, but we cannot talk about a real rebound yet because business and consumer confidence is just too low," Christie Viljoen, an economist at NKC Independent Economists, said by phone from Paarl outside Cape Town. "The government has not really made any attempt to improve the economy after the impact of the strike."
The mining strike, which ended on June 24, was followed a week later by a stoppage by about 220,000 workers in the metals and engineering industry that forced carmakers to shut plants. The business confidence index measured by the South African Chamber of Commerce and Industry fell in July to the lowest level in almost 11 years. The jobless rate rose to 25.5 percent in the second quarter.
'Challenging Environment'
Mining plunged an annualized 9.4 percent last quarter after contracting 25 percent in the previous three months. Manufacturing, which makes up about 15 percent of the economy, declined 2.1 percent after falling 4.4 percent in the first quarter.
"The environment has been challenging with strikes and supply-side constraints," particularly in energy, Nene said in an interview in Johannesburg yesterday. That's "added to the challenges we have been confronted with in order to achieve the growth target."
GDP last quarter was buoyed by a 2.9 percent expansion in government services, which contributes 14 percent to the economy. This was due to an increased number of people being employed during the election in May, said Gerhardt Bouwer, executive manager of national accounts at the statistics agency.
Agriculture rose an annualized 4.9 percent, financial services grew 1.5 percent and construction jumped 5 percent, according to the data.
Interest Rates
The rand has weakened 21 percent against the dollar since the start of last year, the worst performance of 16 major currencies tracked by Bloomberg, helping to improve the competitiveness of exporters. At the same time it has fueled inflation, prompting the central bank to increase its benchmark repurchase rate by 75 basis points this year to 5.75 percent.
The currency gained 0.2 percent against the dollar and traded at 10.6847 as of 2:25 p.m. in Johannesburg. Yields on rand-denominated government bonds due December 2026 fell six basis points, or 0.06 percentage point, to 8.16 percent