No Sign of Young Japan Stock Buyers as Tax Lures Ignored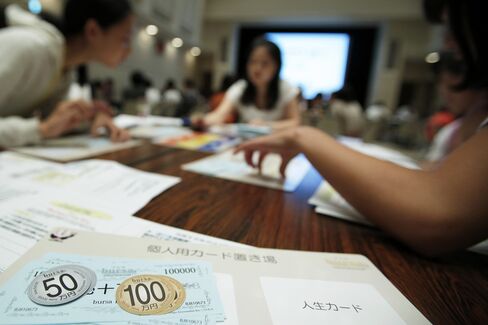 History is working against Japan's government as it seeks to convince a new generation of investors that equities are the best bet for funding retirement.
A program of tax breaks that started Jan. 1 hasn't proved to be the answer, with less than 9 percent of investments coming from people under 40. Now policy makers are looking to tweak the plan. The Financial Services Agency will this week recommend increasing the annual amount that can be invested through a Nippon Individual Savings Account, according to a person familiar with the matter.
The challenges to any blueprint for encouraging equity investment in Japan start with the market itself, with the Topix index sitting more than 50 percent below its 1989 high and almost 30 percent below levels as recently as 2007. Even last year's 51 percent advance is failing to coax a response because younger people have little money to spare, skeptics including the founder of the Sawakami Fund say. The measure fell 0.5 percent to 1,285.01 at the close today.
"In the old days, people thought they'd make money from stocks in the long run," said Koichi Haji, executive research fellow at the NLI Research Institute in Tokyo, a unit of Nippon Life Insurance Co. "With consumer prices now rising, if people hold just bonds and cash they'll feel poorer and won't be able to buy things, which will impede long-term growth. But getting them to buy stocks is a different story."
As health-care and pension costs weigh on public finances, the government wants Japanese households to boost their retirement funds by investment rather than clinging to the 0.04 percent interest rate on bank deposits. That's why Japan is willing to forego the taxes lost through NISA, estimated at 26 billion yen ($250 million) a year.
Wealth Distribution
NISA allows each person to buy as much as 5 million yen of stocks and investment trusts without paying levies on dividends or profits, subject to an annual cap on purchases of 1 million yen. Japan's households have more than half their 1,630 trillion yen of financial assets in cash and bank deposits and 9.1 percent in equities, according to the central bank.
The distribution of wealth among age groups in Japan suggests that Generations X and Y have less to put into the stock market. Two-thirds of family savings are owned by people aged 60 or over, according to Statistics Japan. About one in three households have no financial assets, according to the Central Council for Financial Services Information.
That's not stopping the government from trying.
The FSA is proposing to increase the annual NISA investment cap to 1.2 million yen and making a so-called junior NISA program, which would start by January 2016, according to the person, who asked not to be named as the plans are private.
Kids Program
In the kids program, families can reduce their household's tax burden by investing up to 800,000 yen per year on behalf of each child aged 19 or younger, the person said. The Finance Ministry is expected to receive the proposals by Aug. 29 and decide by year-end whether to implement them.
The existing cap is enough for most people, as about three of every four investors own less than 5 million yen in equities, according to Hitoshi Sumisawa, director of the income- and property-tax policy division at the Finance Ministry. Sumisawa said he was speaking generally and not referring to any proposed changes to the program before the ministry receives them.
NISA, which runs through 2023, is expected to cost 26 billion yen in lost tax in the year ending March, said Sumisawa. The program's introduction coincided with a doubling of the levy on capital gains and dividend income for equities held outside NISA accounts.
The program had drawn 1 trillion yen in investments at the end of March, with 6.5 million accounts opened, according to an FSA survey in June. People under 40 accounted for 8.5 percent of the investments, while those over 60 made up 65 percent.
Structural Problems
"When you look at Japan's structural problems such as a shrinking labor force and aging population, younger people should be worried about social services," said Masahiko Koyanagi, executive director of the Japan Securities Dealers Association. "They have a long time to invest. I want them to put in money bit by bit and enrich their lives down the road."
The Junior NISA program will help shift wealth to younger generations, Koyanagi, 56, said.
Japanese savings are "the world's biggest sleeping resource" and unless they are channeled into equities, the nation's market will remain susceptible to the influence of foreign investors who account for two-thirds of market transactions by value, according to Atsuto Sawakami, whose eponymous fund manages about 300 billion yen.
"Japan has so much money and we should take the initiative," Sawakami said in an interview in Tokyo in July. "If individuals' savings don't support Japanese companies, what else will?"
Before it's here, it's on the Bloomberg Terminal.
LEARN MORE