Market Basket Employee Complains About Hostile Work Environment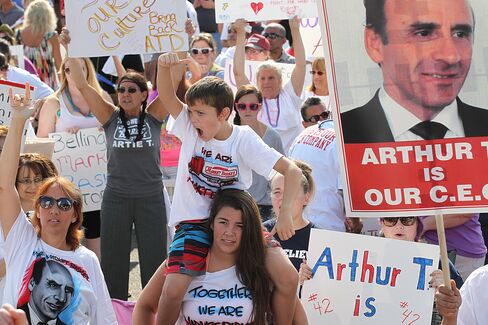 An employee of Market Basket, the New England grocery chain rocked by worker protests, has filed a charge with the National Labor Relations Board accusing the company of creating a hostile work environment.
Market Basket, a closely held company embroiled in a decades-long feud among members of the family that controls the business, engaged in unfair labor practices by violating the right to picket and strike, according to the charge filed by Karen Bostwick, who is listed as a resident of Lowell, Massachusetts. The company also threatened to fire protesting employees, according to the NLRB document. Bostwick and Market Basket couldn't immediately be reached for comment.
Market Basket saw workers walk off the job earlier this summer, joining customers to protest the firing of well-liked Chief Executive Officer Arthur T. Demoulas. Eight employees also said they were fired for spearheading the revolt -- the latest twist in a clash between two factions of the Demoulas family, who own the company's 71 stores through Demoulas Super Markets Inc.
Arthur T. Demoulas, who the protesting workers said was committed to high wages and generous benefits, was fired by cousin Arthur S. Demoulas, whose side of the family controls 50.5 percent of the Tewksbury, Massachusetts-based company.
The ousted CEO, whose side of the family owns 49.5 percent of the business, has offered to buy full ownership for about $1.5 billion, a person familiar with the matter said last week. That would value the whole company at about $3 billion. Arthur T. Demoulas isn't the only one to express interest in a deal, though. The supermarket chain has heard from as many as a dozen possible buyers, a representative for the board has said.
Work Stoppages
The protests have caused work stoppages throughout New England, causing losses of more than $10 million a day, according to industry analysts. Supermarket News, a trade publication, ranks the company as the 34th-largest U.S. grocery retailer, with $4.3 billion in annual sales and stores in Massachusetts, New Hampshire and Maine.
New Hampshire Governor Maggie Hassan and Massachusetts Governor Deval Patrick, both Democrats, said last week that an agreement appeared to be close to sell the company to Arthur T. Demoulas and restore him to control.
Bostwick's charge was filed on Aug. 20, according to the NLRB document. More than half of charges alleging unfair labor practices are withdrawn or dismissed, according to the agency.
Before it's here, it's on the Bloomberg Terminal.
LEARN MORE