Can You Lease a Dairy Cow? And Other Legal Questions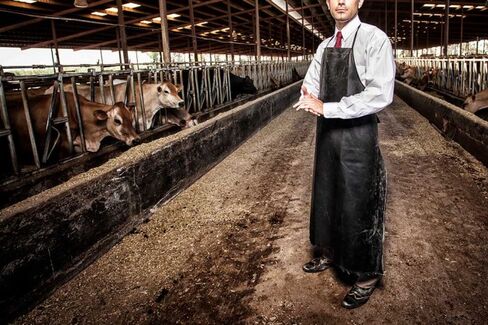 The details of the fight over Lee Purdy's dairy cows unfold like a particularly thorny math question on an SAT exam. For America's struggling dairy farmers, the answer is more than an intellectual exercise.
In 2012, Purdy, a Kentucky dairy farmer, had about 750 dairy cows—a good size for a dairy farm. Most of the cows were leased from an Arizona-based outfit called Sunshine Heifers. Leasing dairy cows is common: It lets dairy farmers with limited capital expand their operations. Purdy's 435 leased cows were branded and were supposed to wear yellow tags.
Purdy owned the rest of the cows outright, and they wore white ear tags. These he used as collateral on loans with Citizens First Bank.
But Purdy swapped the tags between cows, making it hard to tell a bank cow from a leased cow, according to court documents. Two years ago, rising feed prices cut into Purdy's milk shares, and he started selling off his herd. By the time Purdy filed for bankruptcy in November of 2012, there were 432 cows left. Which cows were they? And who gets to keep them?
That answer, as it turns out, depends on the plausibility of leasing a dairy cow—and more broadly, on the oft-litigated question: When is a lease really a sale in disguise?
In March, the bankruptcy court sided with Citizens First, saying it didn't make sense to sign a 50-month lease on a dairy cow. Purdy culled his dairy cows—replaced them with new ones—at such a rate that the entire herd turned over in about three years, leading the court to conclude that the economic life of the cows was shorter than the term of the lease.
In that case, the court said, Sunshine's deal with Purdy was a "disguised security agreement"—essentially an installment sale in which Sunshine maintained a security interest in the event of a default. The decision allowed Citizens First to claim the cows, which it sold at auction for $402,353.54, applying the proceeds to Purdy's outstanding debt.
When Sunshine Heifers appealed, the appellate court, the Sixth Circuit in Cincinnati, reversed the decision. In the opinion (PDF), Judge Karen Nelson Moore said the lower court had missed the point. Purdy's lease required him to replace cows that became unproductive, tagging them as a Sunshine cow. Thus, the judge said, Purdy had effectively leased a herd, not individual cows.
"Purdy had a duty to return the same number of cattle to Sunshine that he originally leased, not the same cattle," Judge Moore wrote. Purdy could not be located for comment.
Jeff Blevins, Sunshine Heifers' owner, who hopes the opinion may shield dairy cow leases against further legal challenges. "Leasing a dairy herd is just like leasing a car," he said. "It's a bunch of parts and some of the parts wear out. You are going to return it with whatever parts have been replaced."
The case has been remanded back to the bankruptcy court. Scott Bachert, who represents Citizens First Bank, says his client isn't giving up just yet. Even if the leases are considered legitimate, he says, court testimony showed that Purdy purchased replacement cows with a bank account in which he commingled funds from milk sales and sales of culled cows, both leased and owned.
Since the bank has a lien on his accounts, who then owns the replacement cows?
Before it's here, it's on the Bloomberg Terminal.
LEARN MORE