Israel Brings Down Second Gaza High-Rise Amid Cease-Fire Hopes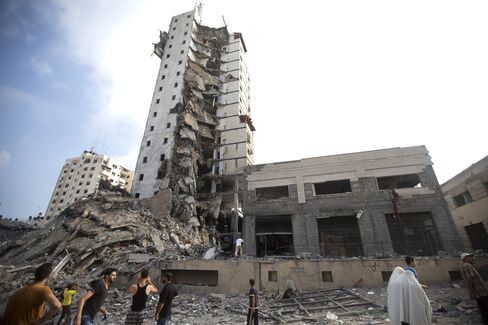 Israeli air strikes toppled two high-rise buildings in the Gaza Strip after its residents were warned to flee, as Egypt pursued efforts to halt a conflict that's entered its eighth week.
Aircraft first leveled a 14-story building housing 100 apartments and 150 stores, then struck a 13-floor office building. The structures in Gaza City were attacked because Gaza's ruling Hamas group used them to plan attacks against Israel, an army spokeswoman said, speaking anonymously in accordance with military regulations. Dozens were wounded, said Ashraf al-Qedra, spokesman for the Gaza Health Ministry.
The destruction of four multistory Gaza buildings since Aug. 23 represents an escalation of Israel's air campaign against Hamas and other Palestinian militant groups. More than 2,100 Palestinians, including hundreds of women and children, have been killed since Israel initiated its operation July 8 with the declared aim of halting rocket fire from Gaza. The death toll on the Israeli side is 68, all but four of them soldiers.
At least three Palestinians were killed by Israeli fire today, the Hamas-affiliated Al-Rai news agency reported. One rocket struck an Israeli house, causing no serious injuries, police said in a text message.
Egyptian Mediation
Leading the effort to stop the fighting is Egypt, which mediated two previous conflicts between Israel and Hamas, and has crafted several temporary truces during the current campaign. The Egyptians last week proposed an open-ended truce to give the sides time to work on a more lasting accord.
"The language of the new Egyptian proposal is acceptable, although it needs some modifications that we are discussing with them," Hamas official Mussa Abu Marzuk was quoted as saying by the pan-Arabic daily Al-Hayat, based in London.
The office of Israeli Prime Minister Benjamin Netanyahu said it will not comment on truce talks.
Hamas has demanded the easing of restrictions on its border crossings with Israel, including the opening of a seaport and airport, saying the limits on the movement of goods and people causes suffering to Gaza residents. Israel says the crossings need to be supervised by a third party to prevent weapons smuggling and wants Palestinian militant groups disarmed, a condition Hamas rejects.
Demilitarization
"We have no reason to block the reconstruction of Gaza or prevent the opening of crossings -- they were open in the past - - or to prevent fishing," Israeli Minister of Intelligence and Strategic Affairs Yuval Steinitz said in an interview with Israel Radio. At the same time, "our fundamental condition for a long-term accord is obviously demilitarization," he said.
Gaza's example must be an object lesson about peacemaking, Steinitz added. Unless the territory is stripped of its weapons, "can we take the risk of continuing with this process?"
Israel, like the U.S. and European Union, considers the Islamist Hamas a terrorist organization. More than 4,000 rockets have been fired at Israel over the past seven weeks, and the Israeli military has carried out more than 5,000 strikes on Gaza, the army said. Today, the military struck 15 targets and at least 14 rockets were fired, it said.
Israel's benchmark stock index, which lost 0.7 percent last week, fell 0.1 percent at 11:15 a.m. in Tel Aviv. The shekel weakened 0.4 percent against the dollar to 3.5838.
The Bank of Israel cut the benchmark interest rate by a quarter-point yesterday to a record 0.25 percent, citing concerns over the negative impact of the Gaza conflict on economic growth.