India Hedge Funds Perform Best Globally on 'Modi, the Hero'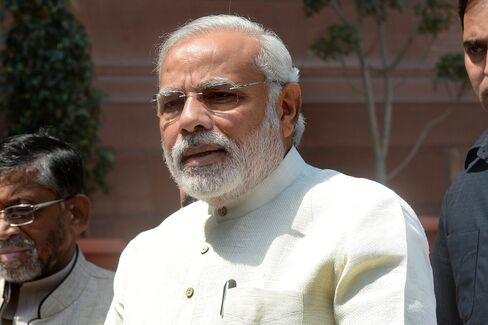 Hedge funds investing in India have become the world's best performers this year on expectations that Prime Minister Narendra Modi will revive Asia's third-largest economy.
The funds investing in the South Asian nation have returned 26 percent this year through July, according to Eurekahedge Pte. That compares with an average 3.5 percent gain for those investing in Asia, 1.9 percent for Greater China, 1.2 percent for Japan, 3.8 percent for North America and 1.1 percent for Europe, the Singapore-based data provider said.
India-focused hedge funds, with a sixth of the $16.5 billion in assets of those investing in Japan, are set for the strongest return in five years after Modi secured the nation's largest election victory since 1984 in May. The prime minister has pledged to restore economic growth, rein in inflation and the budget deficit, as well as revive stalled projects to boost investor confidence.
"Times have changed and we have Modi, the hero," said Samir Arora, Singapore-based founder of hedge-fund firm Helios Capital Management Pte. "We have seen a massive change in interest. Next year can be very big for India."
Helios Strategic Fund, which bets on rising and falling stock prices, has returned 36 percent this year through the end of July. Arora declined to disclose the assets for the fund that started in 2005.
Best Performers
The best-performing hedge fund investing in India in 2014 is the India Insight Value Fund, which returned 78 percent until the end July, according to data compiled by Eurekahedge. It is followed by The Mayur Hedge Fund, which gained 49 percent, and the Malabar India Fund LP, which added 48.6 percent.
Assets under management of India-mandated hedge funds rose almost sevenfold to $5.3 billion during the three years through the end of 2007 and slumped to $2.3 billion in the following two years, according to Eurekahedge. They have rebounded to $2.8 billion as of the end of July. That compares to $16.5 billion in Japan and $1.4 trillion in North America.
Forefront Capital Management Pvt., which was founded in 2009 and bought by Indian service provider Edelweiss Financial Services Ltd. this year, has seen rising inflows, said Radhika Gupta, co-founder and business head at the Mumbai-based firm.
"In this year's first half, inflows have been significantly higher than during the full last year," said Gupta, declining to elaborate further. "We have seen the first wave of new funds on anticipation of Modi's reforms, and we will see a second one on execution."
Stock Rally
The Forefront India Dynamic Value Fund has returned 14 percent this year through the end of July, and 30 percent since its start in August 2013, said Gupta.
Gains in stock prices have benefited the India-focused funds, many of which invest in listed equities. The benchmark S&P BSE Sensex Index has climbed 25 percent this year, outperforming the 5.3 percent gain of both the MSCI World Index and the MSCI Asia Pacific Index and the 8.9 percent gain by the MSCI Emerging Markets Index.
"Most hedge funds investing in India are long-short equity funds, traditionally investing with a long bias to underlying markets," Mohammad Hassan, a Singapore-based analyst at Eurekahedge, said. "This means stock market gains are an important source of returns for fund managers in India."
Modi's Pledge
India-focused funds are mainly using equity-based strategies because the nation's corporate-bond market is less developed than in other countries, Hassan added.
Not all agree that hedge funds will be the choice among investors in India, because of the gains in the nation's stocks.
"India is about equity returns - either you want the market exposure, or you don't," said Peter Douglas, principal of Singapore-based research firm GFIA Pte. "So why should people give their money to hedge funds, rather than long-only funds or mutual funds, where they pay lower fees."
While Modi's government swept into office in May with the biggest lower-house majority in three decades, some investors are concerned he may fail to deliver on pledges to push through measures to reform the economy. The government refrained from cutting subsidies in the first budget, stopped short of allowing foreigners majority stakes in defense companies, and blocked a global trade deal.
Track Record
"If Modi fails to reform the economy, it will be very negative for inflows," said Anil Ahuja, Singapore-based manager of the IPEplus Fund 1. The fund invests in stocks, bonds and currencies and has gained 21 percent since its start in October, according to data compiled by Bloomberg.
Raju Kamath, a London-based manager at Kuvera Capital Partners LLP, which manages the Kuvera Fund Ltd., said Modi will be able to revive the economy, citing the prime minister's previous role as chief minister of the Indian state of Gujarat, where he oversaw annual growth of 9.9 percent from fiscal 2002 to 2013, compared with 7.4 percent for the whole of India.
The long-short fund, which invests in Indian equities, has returned 11.5 percent this year to the end of July, he said.
"Modi will and can do it," said Kamath. "Modi has shown execution capabilities at the local level."