Sharpton Calls for Activism at Funeral for Michael Brown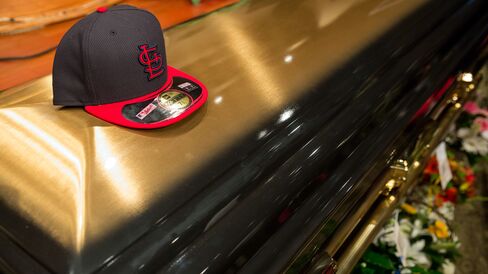 Aug. 25 (Bloomberg) -- Michael Brown, the unarmed black teenager killed by a white policeman 16 days ago, was laid to rest as the civil-rights leader Al Sharpton urged the thousands who gathered to channel their anger into activism.
"We can't have a fit, we've got to have a movement," Sharpton told the crowd in a St. Louis church, where mourners included three White House officials and several members of Congress. "We've got to be here for the long haul and turn our chants into change, our demonstration into legislation."
The funeral today comes after more than two weeks of protests over Brown's death, which included violent clashes between demonstrators and police in riot gear. Like the protesters who took to the streets of neighboring Ferguson after Brown died on Aug. 9, Sharpton, a minister from New York, spoke of the need to address racial profiling, heavy-handed policing and economic inequality in the U.S.
Ferguson became a national symbol of such ills after images of armored trucks and police firing tear gas into mostly black crowds were broadcast around the world. The situation garnered the attention of President Barack Obama and U.S. Attorney General Eric Holder, who traveled to Ferguson last week and promised a thorough investigation.
Half-Hour Eulogy
During a 30-minute eulogy, Sharpton, 59, said Ferguson should be a catalyst for new policies giving guidelines to police about the use of force. The speech came two days after Sharpton led a march in New York to protest the death of Eric Garner, a black father of six who was killed last month by police using an apparent chokehold.
"We need Congress to have legislation about guidelines in policing," he said, while also calling for a "fair and impartial" investigation into Brown's shooting death.
In front of the pulpit where Sharpton spoke, Brown's casket was covered in roses at the Friendly Temple Missionary Baptist Church. The 18-year-old was shot at least six times, including twice in the head, according to results of an independent autopsy released last week.
A grand jury is hearing evidence in the case and will decide whether Darren Wilson, the officer who shot Brown, should face criminal charges.
Police said Brown attacked Wilson, 28, and attempted to get his gun. Some residents say the teen raised his hands in surrender before he was killed.
'Big Mike'
At the service, family members remembered Brown as a gentle giant who went by nicknames "Big Mike" and "Mike Mike." Brown, who stood 6-foot-4 (1.93 meters) and weighed almost 300 pounds (136 kilograms) was planning to begin college classes this month.
"He said one day the whole world will know my name," said Charles Ewing, Brown's great uncle. "He spoke it prophetically."
White House officials attended the funeral, including Broderick Johnson, an Obama aide who leads the president's "My Brother's Keeper" task force. Obama created the initiative this year to support young minority males. U.S. Senator Claire McCaskill, a Missouri Democrat, also attended.
Missouri Governor Jay Nixon, a Democrat who called in the state's National Guard to Ferguson last week, didn't attend.
Scott Holste, a spokesman for Nixon, said the governor decided not to attend "out of respect for the family, who deserve time to focus on remembering Michael and grieving their loss."
To contact the reporter on this story: Toluse Olorunnipa in Tallahassee, Florida at tolorunnipa@bloomberg.net
To contact the editors responsible for this story: Alan Goldstein at agoldstein5@bloomberg.net Mark Schoifet