Korea's Biggest Fund Manager Sees One More BOK Rate Cut: Economy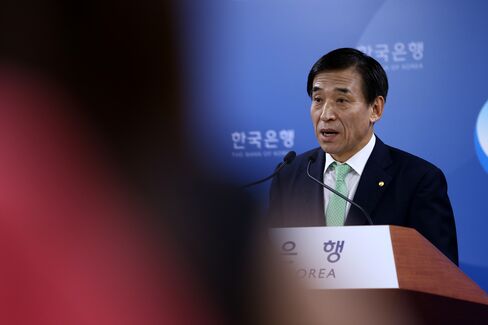 Aug. 25 (Bloomberg) -- South Korea's central bank is likely to cut borrowing costs for the second time this year to help revive the economy, according to Samsung Asset Management Co.
The country's biggest fund manager sees scope for the Bank of Korea to reduce its benchmark interest rate to 2 percent, most probably in October or November, after lowering it to 2.25 percent from 2.50 percent on Aug. 14, said Lee Do Yoon, its chief investment officer for fixed income. Bank of America Merrill Lynch is the only forecaster among 26 surveyed by Bloomberg predicting another cut in 2014, while the remainder said they expect no change.
"The BOK has rarely ended its easing with a single cut," Lee, who helps oversee 126 trillion won ($124 billion) at Samsung Asset, said in an Aug. 21 interview at his office in Seoul. "The government has been talking a lot about weak economic sentiment, and an additional cut can send a signal that policy makers are using all means to boost growth."
Finance Minister Choi Kyung Hwan unveiled an 11.7 trillion won spending plan last month and pledged an expansionary budget for 2015 after President Park Geun Hye called for "all measures" to prevent the nation from entering a "long tunnel" of depression. While Governor Lee Ju Yeol said Aug. 14 the latest rate cut will boost the effectiveness of government stimulus, he refrained from signaling further reductions.
"The governor appeared to sound deliberately neutral to erase speculation about further rate cuts," Hwangbo Youngok, a Seoul-based director at Korea Investment & Securities Co., one of the nation's 21 bond primary dealers, said in an Aug. 22 phone interview. "I don't think a cut will come unless local economic data deteriorate seriously, which looks unlikely."
BOK Guidance
The cut in the seven-day repurchase rate followed a change in the BOK's guidance from indicating tightening to easing after domestic consumption fell in the aftermath of a ferry disaster in April that killed almost 300 people.
Governor Lee had said after policy reviews in April and May that the next rate move would be "upward" if inflation pressure were to build and the economy grew as projected. He stepped back from his stance on July 10, when the central bank cut its 2014 gross domestic product growth forecast to 3.8 percent from 4 percent, citing downside risks.
South Korea's government bonds declined last week after Lee refrained from signaling further easing and the central bank said in an Aug. 14 statement it will monitor the economic impact of the latest rate cut for future policy decisions.
Expansionary Budget
The yield on three-year bonds declined one basis point, or 0.01 percentage point, to 2.58 percent at 11:52 a.m. in Seoul today after rising five basis points last week, Korea Exchange Inc. prices show. The 10-year yield fell three basis points to 3.12 percent following an advance of eight basis points in the five days through Aug. 22. The won fell 0.3 percent to 1,020.90 per dollar, according to data compiled by Bloomberg.
An expansionary 2015 budget, which is due to be submitted to parliament in September, may increase the government's debt issuance to around 110 trillion won from this year's planned 97.5 trillion won, according to Samsung Asset's Lee. This may lead to a short-term correction in longer-dated bonds, and the fund management company sees that as an opportunity to buy 10-year sovereign notes, he said.
Asia's fourth-largest economy grew 0.6 percent in the second quarter from the preceding three months, the slowest pace in more than a year, BOK data showed July 24. A central bank report on July 30 showed local manufacturers' business confidence fell to a one-year low of 75 for August. Consumer prices rose 1.6 percent in July from a year earlier, the statistics office reported Aug. 1, trailing the central bank's target of 2.5 percent to 3.5 percent.
'Downward Revision'
"Short of a strong spurt in domestic demand or inflation, the near-term economic outlook is very likely to require another downward revision," Lee Jaewoo, chief Korea economist at Bank of America Merrill Lynch in Seoul, said in an Aug. 14 report in which he reiterated his prediction for a second rate cut in October. "By October, we will also have seen the 2015 budget which is highly likely to be more expansionary, adding to the case for monetary accommodation to ease off the consequent pressure on Korea sovereign yields."
To contact the reporter on this story: Jiyeun Lee in Seoul at jlee1029@bloomberg.net
To contact the editors responsible for this story: James Regan at jregan19@bloomberg.net Amit Prakash