Cavaliers Get Love From Timberwolves in Three-Team NBA Trade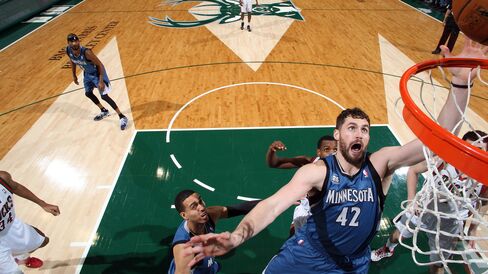 All-Star forward Kevin Love joined LeBron James and the Cleveland Cavaliers with the completion of a three-team trade involving the Minnesota Timberwolves and Philadelphia 76ers.
The Cavaliers sent the National Basketball Association's past two No. 1 overall draft picks -- Andrew Wiggins and Anthony Bennett -- to the Timberwolves to acquire the 6-foot-10, 260-pound Love, who has averaged 19.2 points and 12.2 rebounds a game over his six-year professional career.
"Kevin joining the Cavaliers represents a very special and unique opportunity for our team," General Manager David Griffin said in a statement.
The trade was agreed to several weeks ago, according to media reports, yet couldn't be completed until yesterday -- a month after Wiggins signed his rookie deal. Adding Love, 25, strengthens a new-look Cavaliers team that's been favored by oddsmakers to win the NBA title since James re-signed with Cleveland as a free agent last month.
In addition to Wiggins and Bennett, the Timberwolves got forward Thaddeus Young from the 76ers. They also received a trade exception worth at least $4 million that can be used to acquire a player in the next year without being strapped by salary-cap rules, the Star-Tribune of Minneapolis reported.
The 76ers received a protected 2015 first-round pick from Cleveland as well as the expiring contracts of Minnesota's Luc Mbah a Moute and Alexey Shved. Like 76ers center Joel Embiid, the third overall pick in this year's draft, Mbah a Moute is from Cameroon and may help the 7-footer's transition to the NBA.
Love had encouraged the Timberwolves to trade him this offseason, saying he wouldn't return to the organization when he opted out of the final year of his contract in 2015. He averaged 26.1 points and 12.5 rebounds a game in 2013-14 as Minnesota went 40-42, its ninth consecutive losing season.
Five-Year Extension
As part of the trade, Yahoo reported on Aug. 7 that Love would opt out of his contract in 2015 and sign a five-year extension with the Cavaliers worth more than $120 million.
To help replace Love, the Timberwolves get the 6-foot-8 Young, a former first-round pick who has averaged 13.7 points and 5.5 rebounds for the 76ers over the past seven seasons. He averaged a career-high 17.9 points last year.
Bennett, the top pick in the 2013 draft, failed to crack Cleveland's starting lineup as a rookie, averaging 4.2 points and 3.0 rebounds. As a freshman at the University of Kansas last season, Wiggins averaged 17.1 points and 5.9 rebounds.
Before it's here, it's on the Bloomberg Terminal.
LEARN MORE