Tighter Fed, Looser ECB Mean More Euro Pressure
"Oh give me a home, where the buffalo roam, and the bankers ramble all day."
Bankers, economists and journalists alike have flocked to Jackson Hole, Wyoming, for the annual economic symposium sponsored by the Federal Reserve Bank of Kansas City. This year's attendees have traveled from more than 40 countries to hear several dozen financial experts "discuss key long-term policy issues of mutual concern."

Today they'll hear presentations from the two giants of the conference: Dr. Janet Yellen, Chair of the U.S. Federal Reserve System, and her counterpart, Mario Draghi, President of the European Central Bank (ECB). Since the content of their respective presentations has remained closely guarded, we humbly submit our own suggested speech titles, echoing the disparate economic conditions facing each side of the Atlantic.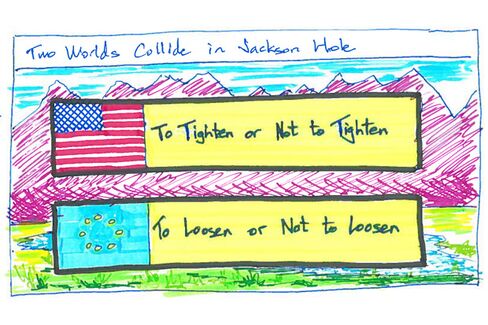 Economic data plainly illustrates why Fed members are now openly debating how to begin reducing "policy accomodation" even as Mr. Draghi floated the idea of European asset purchases just two weeks ago. Whereas the U.S. economy is expanding, Europe's is stagnating. Worse, European unemployment is nearly twice the rate in the U.S.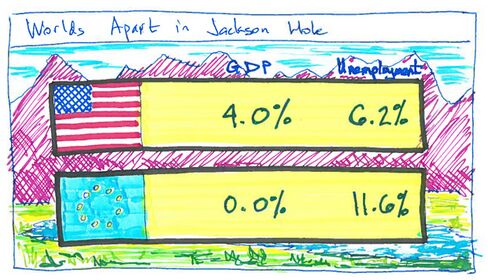 The stunning difference between economic indicators in the U.S. and Europe has pushed the Euro from a 31-month high in May of 1.40 to 1.32 today.
Alan Ruskin is the global head of G-10 foreign currency strategy at Deutsche Bank Securities Inc., and this morning on Surveillance he explained why the Euro will fall farther in coming months. Put simply, additional easing in Europe will debase the currency, which will be magnified by a Federal Reserve doing the polar opposite.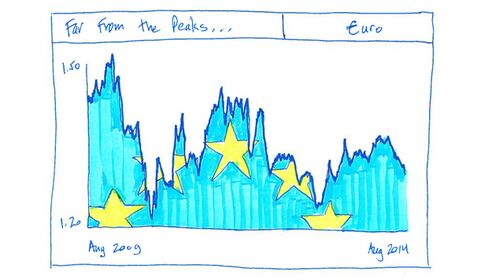 While recent Fed statements have made clear the Federal Funds target rate will remain at 0.25 percent in the near term, Chair Yellen has also opened the door to "unconventional tools" like reverse repos and paying higher interest on reserves. These policies will effectively reduce excess liquidity, without necessarily raising rates explicitly.
As finance professor John H. Cochrane of the University of Chicago's Booth School wrote in today's Wall Street Journal:
"The Fed now has a huge balance sheet. It owns about $4 trillion of Treasury bonds and mortgage-backed securities. It owes about $2.7 trillion of reserves (accounts banks have at the Fed), and $1.3 trillion of currency. When it is time to raise interest rates, the Fed will simply raise the interest it pays on reserves. It does not need to soak up those trillions of dollars of reserves by selling trillions of dollars of assets."
Bottom line: The combination of a tighter Fed and a looser ECB will continue to pressure the Euro lower.

Before it's here, it's on the Bloomberg Terminal.
LEARN MORE