Russia Stocks Halt Best Rally Since 2005, Ruble Drops on Convoy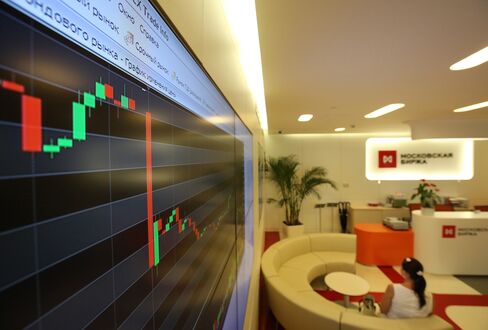 Aug. 22 (Bloomberg) -- Russian stocks ended their longest stretch of gains in almost nine years and the ruble weakened on concern an aid convoy will stoke more tension with Ukraine. Mail.Ru Group Ltd. tumbled after cutting its sales forecast.
The Micex Index sank 1 percent to 1,446.60 at the close in Moscow. OAO Gazprom, the nation's biggest oil company, dropped 1.1 percent, falling for a second day to become the biggest decliner on the index. Mail.Ru fell 11.8 percent in London after the operator of a social networking site cut its 2014 sales forecast amid a slowdown in advertising spending as sanctions against Russia threatened to exacerbate an economic slowdown. The ruble weakened 0.3 percent to 36.1350 per dollar by 6 p.m. in Moscow, when the central bank stops its market operations.
The Micex halted a 10-day advance as Valentyn Nalyvaychenko, the head of Ukraine's security council, said on TV5 that Russia is invading the country under the cover of aid trucks. Ukraine said the convoy moved into the country without its consent. The dollar-denominated RTS Index fell 1.2 percent.
"Russia has underperformed significantly and undoubtedly that's because of renewed concerns of geopolitics, which have been stoked by the news of the convoy entering Ukraine without permission," Neil Shearing, the chief emerging-market economist at Capital Economics Ltd., said by phone from London. "Oil prices have been weak which has also affected Russian stocks."
Brent crude, which touched a 14-month low of $101.60 per barrel on Aug. 18, declined as much as 0.3 percent to $102.21 a barrel in London today. Russia gets half of its budget revenue from oil and gas.
Yellen Speech
The Micex reached the highest level in more than a month yesterday on bets President Vladimir Putin's meeting with his Ukrainian counterpart next week will ease the conflict that has claimed more than 2,000 lives. Federal Reserve Chair Janet Yellen spoke today at the Kansas City Fed's Symposium in Jackson Hole, Wyoming, saying slack remains in the U.S. labor market even after gains made during five years of economic recovery.
"Many investors are taking profit right before Yellen's speech," Anvar Gilyazitdinov, who manages $10 million in Russian stocks at Rye, Man & Gor Securities, said by phone. "The market is now reacting to the possibility of interest-rate hikes, which affect all emerging markets."
Mail.ru retreated the most in five months in London as volume climbed to five times the three-month daily average. Full-year sales will grow 14 percent to 18 percent, the Moscow-based company said today, after previously projecting 22 percent to 24 percent growth. The company also posted first-half earnings and sales that trailed estimates.
Slowing Growth
"It might be a reason to worry about potential downgrades by other companies," Konstantin Chernyshev, head of research at Uralsib Capital in Moscow, said by phone. "The Russian economy is not in good shape."
The Micex is little changed since the end of February, before Russia's annexation of Ukraine's Crimea peninsula. Sanctions from the U.S. and European Union threaten to intensify the economy's worst performance since the recession in 2009. Gross domestic product will probably grow 0.5 percent this year, according to the median estimate in a Bloomberg survey of analysts.
The ruble declined 0.2 percent to 47.93000 per euro today and traded 0.2 percent weaker at 41.4383 against the central bank's target basket of dollars and euros. Government bonds due in February 2027 declined for the first time in three days, sending the yield up five basis points to 9.36 percent.
"As soon as oil prices go down people start worrying about the budget," Vladimir Evstifeev, an analyst at OAO Bank Zenit, said in e-mailed comments. "The very level of $100 to $101 per barrel is more of psychological thing, as investors have gotten used to triple-digit numbers."
To contact the reporters on this story: Priyanka Sharma in London at psharma142@bloomberg.net; Vladimir Kuznetsov in Moscow at vkuznetsov2@bloomberg.net
To contact the editors responsible for this story: Daliah Merzaban at dmerzaban@bloomberg.net; Wojciech Moskwa at wmoskwa@bloomberg.net Stephen Kirkland, Paul Armstrong